Wanda, SUNAC and R&F Sign Strategic Cooperation Agreement
Jul 19,2017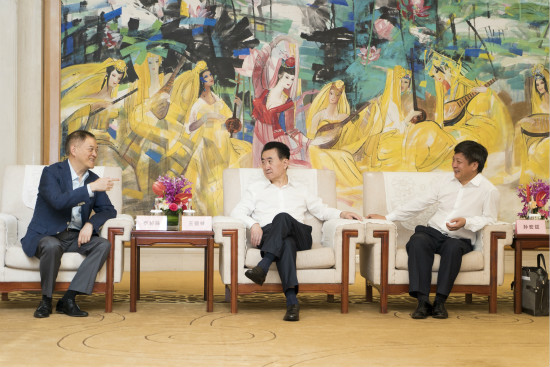 On July 19th, Wanda Commercial Properties Co., Ltd., SUNAC China Holdings Ltd and R&F Properties signed the Strategic Cooperation Agreement in Beijing.
According to the agreement, Wanda Commercial Properties will transfer 77 hotels, including Wanda Realm Beijing, to R&F for RMB 19.906 billion, as well as 91% of the equity of 13 cultural tourism projects in such cities as Xishuangbanna and Nanchang to SUNAC for RMB43.844 billion. The total value of the transaction will be RMB 63.75 billion.
Compared with the agreement signed between Wanda Commercial Properties and SUNAC on July 10th, R&F is added as a trading party, but the object and total amount of the transaction are basically the same. The contract signing ceremony was attended by Wang Jianlin, Chairman of Wanda Group, Sun Hongbin, Chairman of SUNAC China Holdings, Li Sze Lim,, Chairman of R&F Properties, and Zhang Li, Co-Chairman and CEO of R&F.
According to the agreement, R&F acquires all equities of the 77 hotels of Wanda Commercial Properties for RMB19.906 billion, and the former hotel management contracts executed shall still be performed until the expiration thereof. SUNAC acquires 91% of the equity of 13 cultural tourism projects in such cities as Xishuangbanna and Nanchang for RMB43.844 billion, and bears all existing loans of about RMB45.4 billion after the closing of the projects.
Wanda Commercial Properties and SUNAC agree to maintain the cultural tourism projects unchanged in four aspects after closing: 1. Unchanged brand: the brand of "Wanda Cultural Tourism City" shall still be applied for the self-owned properties concerned; 2. Unchanged planning: the projects shall still be developed and constructed in accordance with the plans and content approved by the government; 3. Unchanged project construction: the design, construction and quality of the self-owned properties shall still be managed and controlled by Wanda; 4. Unchanged operation and management: the operation and management of projects shall still be undertaken by Wanda.
SUNAC and R&F are considering entrusting Wanda Commercial Properties and Wanda Film to manage all commercial centers and cinemas invested and developed in the future. All parties agree to establish comprehensive strategic cooperation in multiple fields, including cultural tourism projects and film.
Wang Jianlin, Chairman of Wanda Group, noted that this cooperation is beneficial for all three parties no matter whether considered from the aspect of enterprise strategy or business logic. This is exactly the case for Wanda, as Wanda can significantly decrease the liabilities and recover tremendous cash flow via this transfer. The execution of the agreement also marks both Wanda Commercial Properties and Wanda's cultural tourism business starting their "asset-light" brand management strategies. In today's China, only Wanda can realize scale profits via management of commercial centers and cultural tourism brands.
SUNAC is also a winner. Through this transfer, SUNAC acquired 13 Wanda cultural tourism projects, and low-cost for-sale properties with a total area of 48 million sq. m that are distributed across first- and second-tier cities, which significantly increase SUNAC's consolidated revenues and profits, and will help SUNAC to rank among the top two real estate companies within 2 years. For SUNAC, it is worth acquiring the cultural tourism projects by paying higher prices, without acquiring the hotel properties. SUNAC can complete the transaction without any loan from Wanda, which simplifies the transaction. Today, SUNAC has paid the down payment of RMB15 billion to Wanda.
R&F is also a winner. R&F has sound strategies for the development of hotels, and has opened and constructed 24 premium hotels throughout the world. R&F will operate over 100 hotels after acquiring 77 hotels at a low cost, becoming the largest five-star hotel owner in the world. Around the world, it is a once-in-a-hundred-year opportunity to acquire the properties at such a low price. Meanwhile, R&F can also improve the rate of return of its hotels to an optimal level by applying certain financial strategies.
Sun Hongbin, Chairman of SUNAC, noted that SUNAC had established cooperation with Wanda on 13 cultural tourism projects, and Wanda had sold 77 hotels to R&F, which provides SUNAC with better mobility compared with that of the original transaction, reduces the liability level and assumes the discount for the consideration of the original hotel transactions. For the asset portfolio of the cultural tourism projects, it is acceptable, and it is satisfied by all three parties.
This cooperation not only coincides with Wanda's transformation strategy, but also provides SUNAC with favorable conditions and the chance to realize professional and scaled development in the fields of cultural tourism, etc. Meanwhile, the hotel business is also an advantageous business for R&F. We believe that SUNAC and Wanda will establish more and better cooperation in cultural tourism, healthcare and other fields, and that SUNAC will have in-depth strategic cooperation with Wanda in such fields as film and other areas.
SUNAC has strong risk control awareness, and attaches great importance to risk management. In the first half, its sales revenue was over RMB110 billion, with the book cash balance of over RMB90 billion as of June 30th, 2017. In the second half, the recovered sum in July will exceed RMB20 billion, and over RMB30 billion in each of the other months. Thus, the total sales throughout the year will exceed RMB300 billion, with sufficient cash flow. SUNAC will continue to properly control the liability ratio, manage the cash flow, and maintain the healthy and stable operation and development of SUNAC.