Wanda and R&F Spearhead New Cooperation Paradigm with Plans to Develop 25 Commercial Projects in 5 Years
Dec 20,2016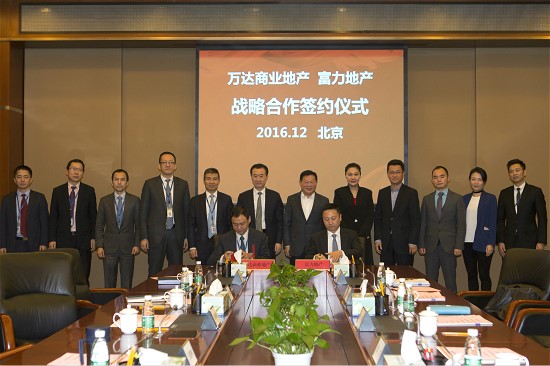 On December 19, Dalian Wanda Commercial Properties and R&F Properties signed a strategic cooperation agreement in Beijing to develop 25 commercial projects over the next five years with a total investment of RMB 30 billion, developing five each year between 2017 and 2021.
The strategic cooperation between the two leaders in different segments of the real estate industry will integrate their resources and give full play to their respective strengths in jointly developing Wanda Plazas. Wanda will be mainly responsible for planning and design, attracting tenants leveraging on its brand and operation and for a portion of the investment, and R&F for investment and construction. The first five projects to be developed in 2017 will be in first and second tier cities.
Wanda Group Chairman Wang Jianlin said the cooperation marks Dalian Wanda Commercial Properties adopting an asset-light strategy and the acceleration of its shift from property development to property service, adding that the cooperation has set an example for cooperation and competition in the industry.
R&F co-chairman and chief executive Zhang Li said that R&F is one of the leading property developers in China which integrates property design, development, engineering supervision, sales, management and agency and that the cooperation with Wanda will significantly increase the company's profit and high-quality property holdings and thus improve the company's value.