Wanda Hotels & Resorts Celebrates its Four Luxury Brands while Opening Its 100th Hotel in Hefei
Oct 21,2016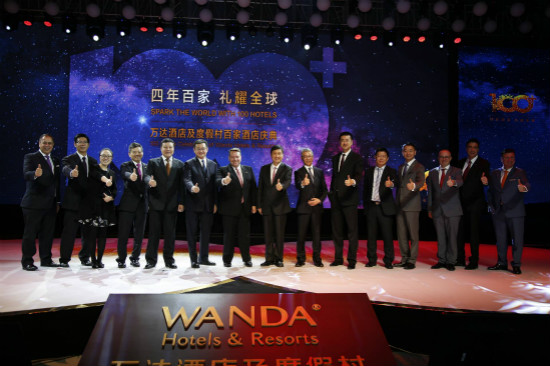 Wanda Hotels & Resorts celebrated the opening of its 100th hotel, Wanda Vista Hefei, on October 20 in Hefei, Anhui. The ceremony brought together senior executives, media, loyal members and business partners to celebrate the significant milestone of Wanda Hotels & Resorts.
Qian Jin, President of Wanda Hotels & Resorts, underscored how much the company has achieved while sharing his vision for its future, "Over the past four years, Wanda Hotels & Resorts has grown at a stunning pace, creating new miracles in our industry. It has grown from a small hotel owner into a luxury hotel company that owns and manages its own brands. Building on what we have achieved, we will continue to deliver strong growth through brand marketing and global expansion. We will work even harder to achieve our next goal: to run 160 Wanda hotels across the world by 2020."
In addition to celebrating its 100th-hotel milestone, Wanda Hotels & Resorts made public its new positioning for its four hotel brands. After four years of dedicated efforts, the company now has the capacity to build a complete value chain for luxury hotels. At the press conference, it unveiled its new company vision, which is to become a respected international luxury hotel company from China. The company advocates the philosophy of people being the core of the business and a greater goodness in life is achieved by treating each other with great respect and sincerity. Kent Zhu, Executive Vice President, said that the redefined company culture and brand positioning lay a solid foundation for even faster growth in the future. These well-structured ideas will help the potential partners, the guests and the employees understand the company culture, its belief, and the target audience of each brand.
With 100 premium hotels in 72 Chinese cities, Wanda Hotels & Resorts is now the largest luxury hotel company in the country and will soon become a key player in the global market. The company has stepped up its global expansion; five Wanda Vista hotels are scheduled to open in London, Chicago, Los Angeles, Sydney and the Gold Coast. With these openings, the company will move beyond Asia to Europe and North America, bringing its Chinese heritage and hospitality to new customers around the globe.