Changde Wanda Plaza opens for business
Sep 17,2016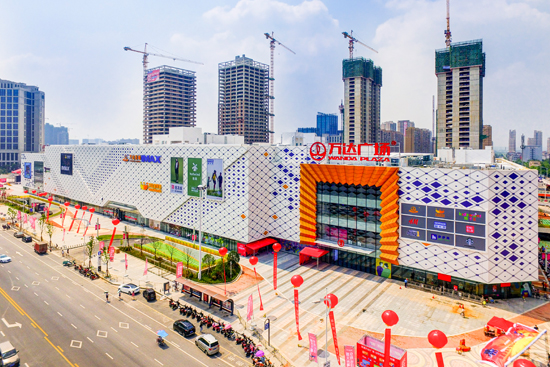 Hunan Changde Wanda Plaza, the 154th Wanda Plaza in China, celebrated its grand opening on September 16, marking the completion of Changde's premier urban trendy shopping center for all customer groups.
On the first day of opening, footfall reached 300,000 persons, while revenue amounted to approximately RMB25.77 million.
Changde Wanda Plaza, with gross floor area of 830,000 square meters, is an all-purpose complex comprising a large shopping center, urban commercial street, Wanda International office space, SOHO residences, and high-end residences. The Plaza has brought in more than 200 renowned domestic and foreign brands covering trendy apparel, lifestyle products, gourmet dining, and interactive experience, among others. Three top fast fashion brands - H&M, Uniqlo and Decathlon - made their debuts in the city. Meanwhile, anchor tenants include Wanda Cinema, Wanda Kidsplace, Kidswant, PLAY1 Family Entertainment Center, and Better Life Hypermart. All these will significantly meet the needs of Changde's residents as they pursue a higher quality lifestyle, help enormously in upgrading Changde's business environment, and further lift the city's status and commercial influence.