Wanda Reign debuts at the Bund
Jun 20,2016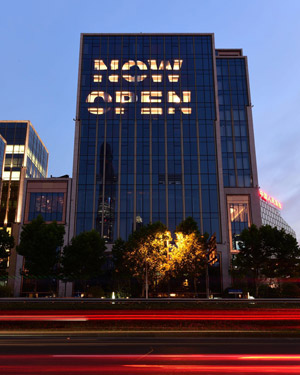 Wanda Reign on the Bund
Wanda Hotels & Resorts unveiled its ultra-luxury hotel – Wanda Reign on the Bund – to the public on 18 June 2016 in a festive celebration. Hundreds of distinguished guests witnessed the birth of Shanghai's newest luxury landmark in the exquisite grand opening ceremony.
The grand debut in Shanghai marks the opening of Wanda Hotels & Resorts' flagship hotel. The new Shanghai Reign, located along the historic Bund and right in front of the famed Shiliupu Marina, is Wanda Reign's third ultra luxury hotel opening, after Wuhan and Chengdu.
The hotel guestrooms and facilities are seamlessly designed with lavish décor and state-of-the-art technology. With all these features and a distinct selection of culinary experiences, Wanda Reign on the Bund is tailored to serve with Chinese-inspired tradition and heart-felt hospitality to ensure each honorable guest enjoys an extraordinary and unforgettable stay.
Amid the grand opening ceremony, hundreds of specially invited guests, including renowned celebrities, entrepreneurs and business partners from all over the world, graced the red carpet, filled the Grand Ballroom, and indulged in the finest delicacies. They raised their glasses as the Shanghai Philharmonic Orchestra, directed by well-known conductor Zhang Liang, serenaded them with passionate and resonant movements. Guests also enjoyed featured videos about the brand on the 82-square-meter LED screen.
Following the ceremony, Wanda cordially invited guests and musicians to the year's most glamorous after-party at MARC restaurant and club. The party kicked off with incredible culinary delights presented by the legendary Michelin-starred chef, Marc Meneau, while professional bartenders offered enticing cocktails to welcome each honorable guest.
Guests enjoyed a DJ performance and runway show by acclaimed local designer Laurence Xu. On the rooftop terrace, they stood in awe at the stunning and unobstructed view of the skyline and toasted to the newest luxury landmark.
To celebrate its grand opening, Wanda Reign on the Bund offers a great value celebratory rate starting from RMB 3,000 per night in a Deluxe Room for a memorable stay.
"Shanghai is an international cosmopolitan city that attracts a lot of global attention," said Mr. Boris Blobel, Managing Director of East China and General Manager of Wanda Reign on the Bund. "The launch of Wanda Reign on the Bund marks the group's official debut in Shanghai, and it serves as an important gateway to the international market. With Wanda Reign's exclusively designed facilities and personalized services, we believe that Wanda Reign on the Bund is poised to become the leader in Shanghai's luxury hotel industry, setting new standards for ultra-luxury hotels."