Wanda Cultural Tourism City to land in Guilin
May 20,2016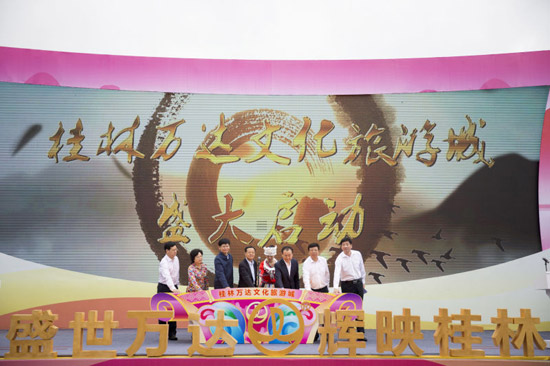 Wanda Group Chairman Wang Jianlin and local officials attend the groundbreaking ceremony
Wanda is breaking ground on a major tourism project in China's southwestern Guangxi Zhuang Autonomous Region on May 20. The mega-project, the 11th of its kind for Wanda's large-scale cultural tourism projects in China, is a 16 billion RMB cultural tourism investment in Guilin and is the largest investment in Guangxi to date.
Called Guilin Wanda Cultural Tourism City, the project spans 200 hectares -- the size of some small European villages, and has a gross floor area of 1 million square meters. Guilin Wanda City boasts an amusement park, a film park and an ocean park. Many of the attractions, such as the film and ocean park, are indoor and open year-round. A shopping center is also open all four seasons and tourists can lift their spirits on bar street, which features 20 renowned foreign and domestic bars.
For more entertainment, Guilin Wanda City is full of high-tech amusement park rides, as well as a stage show highlighting Guangxi's local traditions and culture. Guests can stay in a hotel river resort with five and six star accommodations.
Guilin Wanda City aims to open in 2020 and is projected to reach 20 million visits in its opening year, while creating 20,000 jobs and 5 billion RMB in tourism revenue.
Guilin is one of the world's most famous tourist towns and in 2015 it drew more than 42 million visitors. Wanda intends to turn it into a world-class tourism base that will fill the gaps in the city's tourism industry.
Wanda Group's Chairman Wang Jianlin expresses that Guilin Wanda City's construction will promote Guilin and Guangxi tourism. It will change the development path by upgrading sightseeing, transforming holidays and building overall world-class tourism.
Wanda City is Wanda's new, innovative world tourism brand and is the most advanced global commercial business model in the industry.