Shudu Wanda Plaza unveils in Chengdu, marking the 134th Wanda Plaza
Apr 30,2016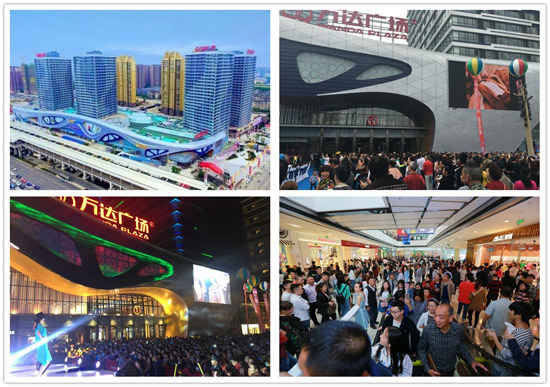 On April 29, Shudu Wanda Plaza, the first Wanda Plaza launched in 2016 and the third one in Chengdu, officially opened to business.
Following Jinhua Wanda Plaza and Jinniu Wanda Plaza, Wanda Group presents the third Wanda Plaza in Chengdu region which welcomed passenger flow of over 300,000 and recorded turnover of RMB 22 million on the opening day.
Shudu Wanda Plaza locates at the conjunction of East Chengguan Road and East Wangcong Road in Pixian County. The project covers a floor area of 900,000 square meters with investment of RMB5 billion, embodying shopping center, Grade-A office building, commercial block, high-end residential complexes and SOHO apartment. The whole building group scale is comparable to a small city.
Besides anchor brands like Wanda Cinema, Wanda Kid Place and Suning, Shudu Wanda Plaza houses in Starbucks, UNIQLO, KFC and among other nearly 1,000 brands, providing one-stop experience of shopping, leisure and entertainment.
Shudu Wanda Plaza will create over 10,000 jobs directly and about RMB300 million of tax contribution per year.