Wanda Commercial Management establishes comprehensive strategic cooperation with Auchan China
Apr 16,2016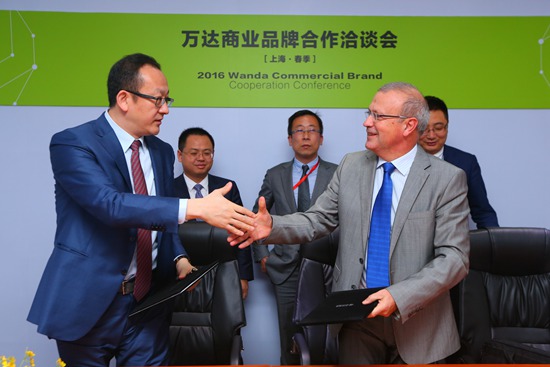 On April 15, Wanda Commercial Management Co Ltd and Auchan (China) Investment Co., Ltd. reached a consensus at the Shanghai Spring Business Brand Cooperation Fair and jointly signed a Strategic Cooperation Letter of Intent.
Bruno Mercier, Chairman of Auchan China and Qiao Huijun, General Manager of Development, as well as Wanda Commercial Management's President Wang Zhibin, Executive Vice President Chen Deli, and Key Account Department General Manager Zuo Tao attended the signing ceremony.
It was announced that both parties will establish a deeper strategic alliance and cooperation relationship, and will give play to their respective advantageous resources at the platform to carry out comprehensive integration, treating the other as a key strategic partner. This alliance between two powerful entities will ultimately result in a win-win situation.