Jewel on Australia's Gold Coast wins dual Asia Pacific property awards
Apr 11,2016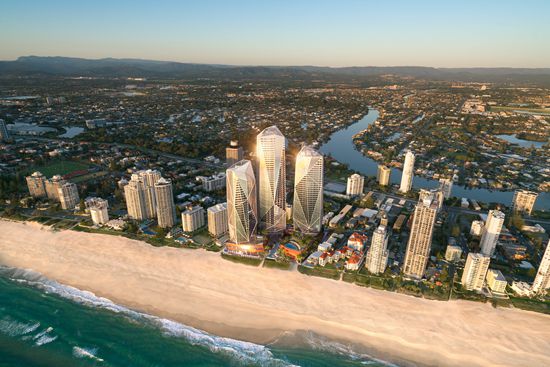 Rendering of the Jewel project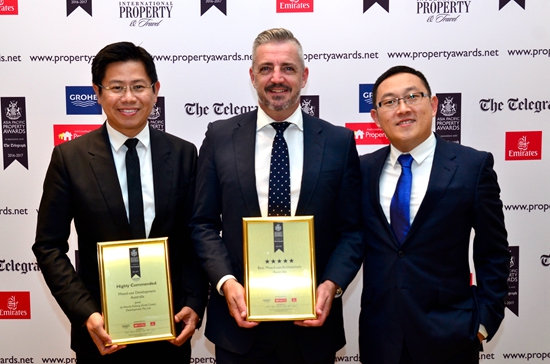 Jewel project representatives accept the awards
Jewel, the Gold Coast's landmark development by Dalian Wanda Group, has won international recognition by emerging as a winner of two awards at the reputable Asia Pacific Property Awards, which took place in Kuala Lumpur, Malaysia on 8 April.
Thanks to the shimmering, golden exterior of its three towers that bear a stark resemblance to crystals, Jewel beat more than a hundred of entries from 25 countries to claim the Best Mixed-use Architecture Australia award and the Mixed-use Development Australia award.
All entries are rigorously and fairly judged by an independent panel of 70 industry experts from around the globe so as to celebrate companies' highest achievements in setting benchmarks for various sectors of the industry. Entries are judged by the panel that focuses on design, quality, service, innovation, originality, and commitment to sustainability.
The Asia Pacific Property Awards is an important part of The International Property Awards, the world's largest, most prestigious, and widely recognised real estate awards programme. The highest-scoring winners from the Asia Pacific region will compete with those from Europe, Africa, the Arab region, the Americas and the UK in the overall International Awards, which will ultimately determine the world's finest companies in each category in late 2016. The ultimate winners will be revealed in London on 12 December 2016.
As a winner of the highest five-star accolade in the Mixed-use Architecture category, Jewel will represent the Asia Pacific region against the world in The International Property Awards 2016-2017.
"The exterior designs of the Jewel's three towers, which are based on three smoky quartz crystals discovered in Mount Warning, will bring about tremendous changes to the landscape of the Gold Coast and the unique design concept is set to win the world's recognition," said Lin Zongjie, Director of Design for Jewel.
Apartment units available in stage one of Jewel have almost sold out, with most of them either under contract or under offer, according to Lucas Wilson, Director of Sales for Jewel. "We have also received potential buyers' letters of intent to purchase apartments under future stages and this award will help further draw attention from international buyers," said Wilson.
Jewel, whose total investment is near AUD 1 billion, is Gold Coast's only beachfront five-star hotel and apartment project, and also the city's first beachfront resort in the recent 30 years. The three magnificent towers of Jewel will meander through 130 meters of beach and include 512 luxury apartments, one five-star hotel within 169 rooms, high-end commercial, retail and dining spaces, and more than 800 underground parking spaces.