2015 Annual Financial Results Announcement of Wanda Commercial
Mar 25,2016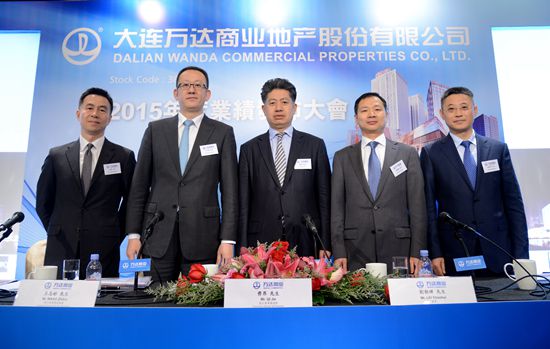 On March 24, the 2015 Annual Financial Results Announcement of Dalian Wanda Commercial Properties Co., Ltd. (hereinafter referred to as the "Wanda Commercial") was held in Hong Kong. There were 171 institutional investors and 30 media, totaling over 270 investors, analysts and journalists, participating in the Announcement who had a thorough communication with the management concerning the hot topics of the market.
A number of the management of the listed company attended the Announcement, including Qi Jie, president of Wanda Commercial, Liu Chaohui, member of the board of directors, Wang Zhibin, deputy president, Gao Xiaojun, financial director and Xu Yong, secretary of the board of directors.
In 2015, with the collective efforts of the management and all employees, Wanda Commercial comprehensively achieved each business goal and distinguished itself in the capital market. Looking into Wanda Commercial's total revenue amounted to RMB124.203 million, up by 15.14% as compared with 2014. It achieved core profit (net of fair value gains of investment properties) of RMB17.016 million in 2015, representing an increase of 14.79% compared to 2014.
In the future, Wanda Commercial will persistently maintain its business concept. In terms of customer services, it aims to further improve consumers' experience and raise its awareness of social responsibilities by upgrading the shopping centers with stronger attractiveness and influences. As for assets operation, in combination of the development of Chinese financial market and in reference of the international experience, Wanda Commercial will keep actively exploring the "capital circulation" and the "asset-light mode" to maintain a healthy balance sheet and provide higher returns to its shareholders through further accelerating the expansion speed of properties in hand and expanding the market share in the major retail market in China.