First global tourist group watches Han Show
Mar 11,2016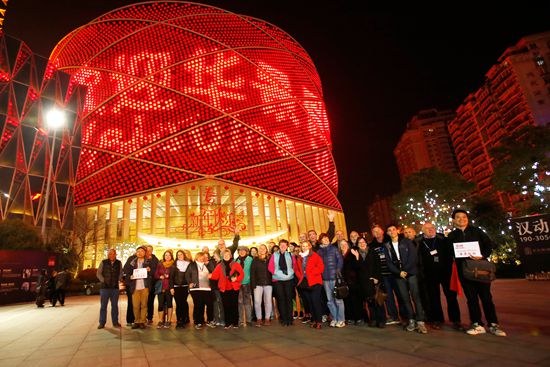 Foreign tourists take a photo in front of Han Show Theatre
Recently, the first global tourist group consist of hundreds of foreign tourists visited the Wuhan Central Cultural District to watch the reputed Han Show.
On March 10, Han Show Theatre received its first global tourist group since its grand opening. Around 300 tourists from countries including Australia, the U.K., Canada, France, Germany, Spain, and the U.S., arrived at Wuhan's iconic Han Show Theatre. Among the spectators were British consular officers and representatives of Hubei Tourism Committee.
The show was given resounding thumbs up by the enthusiastic international audience, many of whom had watched other Dragone shows including "o" show and Le Rêve.
In the next month, the Han Show Theater is expected to entertain 3,000 tourists from worldwide.
Developed by Wanda's Cultural Industry Group with investment of Rmb 2.6 billion, Han Show, the world-class stage performance that brings splendid sensory experience, has entertained audience of over 1 million since its grand opening on December 20, 2014. Han Show not only becomes the new fashion icon creating fever across the country, but also rises on the international stage after receiving heavyweight audience including Belgian King Philip and royal family, tennis star Sharapov, Infront Sports & Media AG CEO Philippe Blatter and other global celebrities.