Australian Ambassador visits Wanda's Wuhan Central Cultural District
Sep 16,2015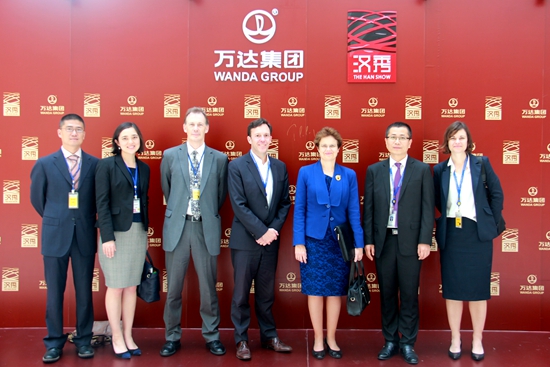 A delegation led by Ms Frances Adamson, Australian Ambassador to China, embarked on a visit of cultural projects in Wuhan, specifically the Han Show Theater and Wanda Movie Park, on September 14, accompanied by Eilers Anton, Deputy General Manager of Wanda Group's Overseas Real Estate Center.
Ms Adamson and her delegation watched a promotional video about the Han Show Theater in the afternoon. With detailed introduction given by the technical staff, they learnt about the stage machinery and equipment, giant LED screens, underwater operation, and sound, light and aerial systems and equipment. Ms Adamson was highly impressed with the Han Show Theater and its breakthroughs in technology, creativity and other aspects. She expressed the hope to have the opportunity to return and watch the Han Show.
Ms Adamson and her delegation then visited the Wanda Movie Park where they were greeted by Wang Jian, General Manager of the Park. They were given a tour of the Park's facade and Mr. Wang gave an introduction of the overall situation of the Park. The delegation also experienced two themed areas - "Hubei in the Air" and "Power of Nature". The magnificent and breathtaking scenery in "Hubei in the Air" and the realistic simulation of powerful natural disasters in "Power of Nature" won much praise from the delegation. The delegation spoke highly of the Park's scientific and technological achievements and innovative design and noted that the trip had been most worthwhile.