Annual convention aims to deepen O2O cooperation with Wanda partners
Sep 11,2015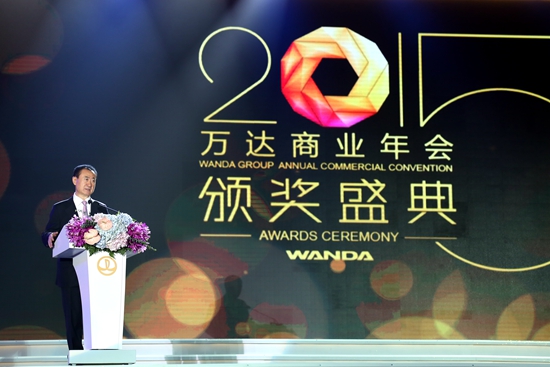 Wanda Group Chairman Wang Jianlin makes a speech at the convention
The Wanda Group Annual Commercial Convention is held on September 10-11 at Beijing's China National Convention Center. Wanda Group Chairman Wang Jianlin attended the meeting and made a speech.
The Wanda Group Annual Commercial Convention, which has been upgraded into a platform to discuss industry cooperation from an investment promotion conference for Wanda Plaza, is the largest of its kind in China's business community, with more participating brands than any other business conference.
The ninth annual meeting comes at a critical time when Wanda Group is undergoing its fourth transformation into an open-ended platform operator and seeking to deepen O2O cooperation with industry partners in the "Internet Plus" era.
Some 10,000 people from 3,000 brands have registered for the 2015 Wanda Group Annual Commercial Convention, and 380 well-known brands will set up exhibition booths to discuss business cooperation with more than 5,000 agents. Some new features are added to the meeting to underscore Wanda Group's determination to push for transformation and upgrade.
First, it released the first Wanda Plaza Operation Report. At this year's annual meeting, Wanda Commercial announced Wanda Plaza's operating performance, giving the whole industry a chance to get a deeper understanding of Wanda Plaza and China's consumption market. Wanda Commercial is the world's largest real estate developer and it operates Wanda Plaza, China's largest offline commercial platform. By 2015, Wanda Commercial will open 135 Wanda Plaza projects across China, with a combined annual passenger volume of 2 billion. The figures are expected to reach 500 and 10 billion by 2020. At present about 10,000 Chinese and foreign brands have opened stores at Wanda Plaza, and they regard it as the best "incubator" to expand market and promote brand awareness. Wanda Plaza's operating performance is also considered a leading indicator of China's consumption market.
Second, Wanda's asset-light projects debut at the meeting. Wanda Commercial plans to open 50 Wanda Plaza projects in 2016, including more than 20 asset-light projects. These projects will be unveiled at the annual meeting to tout merchants and be tested by the market.
Third, ffan.com seeks cooperation. As a highlight of the annual meeting, Wanda's e-commerce platform ffan.com will open a separate exhibition room and host two promotion activities to invite customers for an experience tour at Tongzhou Wanda Plaza. As an open e-commerce platform combined with "physical commercial operations" and "Internet", ffan.com not only serves Wanda Plaza but also seeks cooperation with other business partners. During the annual meeting, ffan.com will sign cooperation agreements with interested merchants and shopping malls.
Fourth, Wanda will unveil Global Investment Promotion Platform. The Global Investment Promotion Platform is a social, open and professional service platform built by Wanda Commercial for shopping malls and brand owners. It uses Internet to facilitate seamless cooperation between brand owners and shopping malls and big data to match brand owners hoping to expand stores and shopping malls with vacant commercial spaces.
In addition, Wanda Commercial's brand cooperation fair will be organized as a continuity to a similar fair held in Shanghai in April 2015. More than 600 brands that had established communications with Wanda can sign cooperation agreements during the annual meeting. This year's annual meeting is expected to see new records in terms of the proportion of merchants intending to cooperate with Wanda Commercial and the proportion of merchants finally signing cooperation agreement.