Wanda Group to invest 150bn yuan in Chongqing to build Cultural Tourism City and 28 Wanda Plazas
Jun 02,2015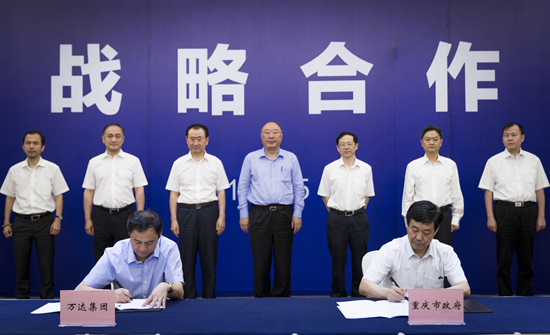 Wanda Group announced a major strategic cooperation deal with the Chongqing Municipal Government at a signing ceremony on May 21. Under the agreement, Wanda will invest 150 billion yuan in the region to construct a large-scale Wanda Cultural Tourism City and 28 Wanda Plazas. The deal is one of the company's largest ever and will make Wanda Chongqing's largest investment partner.
Wanda's investment in Chongqing is mainly focused on modern services, a move that is in line with China's future transition, which aims to stimulate growth in domestic demand. Chongqing Wanda Cultural Tourism City will be designed and built in accordance with best in class international standards, becoming the city's new landmark and greatly improving the area's tourism industry. Wanda Plazas will be built in more underdeveloped and remote areas of Chongqing with the aim of improving the city's overall consumer environment. Wanda's investment in Chongqing will create over 200,000 service sector jobs and generate huge tax revenues.
Chongqing is the only municipality in western and central China. Being China's most vibrant economic area, Chongqing's economic growth has been the fastest among Chinese cities for several consecutive years.
In the past ten years, Wanda Group has invested 20 billion yuan to build four Wanda Plazas in Chongqing. Nanping Wanda Plaza, which opened in 2009, boasts daily foot traffic of nearly 100,000 people, ranking second among the 100+ Wanda Plazas operating in China. Wanzhou Wanda Plaza, which opened in 2013, set a new record of 1.1 million visitors in its first three days of opening. Wanzhou plaza still attracts over 60,000 visitors a day.
At the signing ceremony, Wanda Group Chairman Wang Jianlin expressed confidence in Chongqing residents' consumption behaviour and promised to increase investment in the city.
Since the beginning of this year, Wanda Group has accelerated the implementation of its asset-light strategy. The company has signed deals with local governments in Guizhou, Guangxi, Sichuan, Liaoning and Chongqing to develop nearly 100 projects with a total investment of 560 billion yuan.