Wanda Group signs strategic cooperation agreement with Vanke Group
Jun 02,2015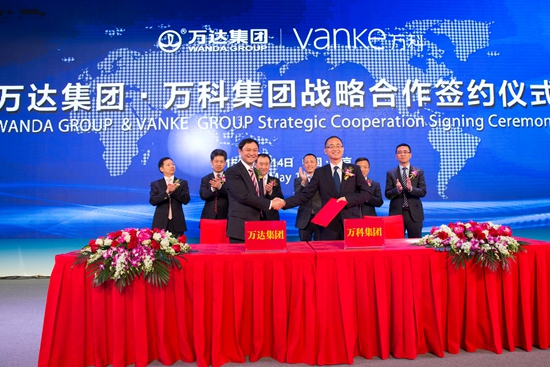 BEIJING, May 14 – Dalian Wanda Group Co., Ltd. ("Wanda"), a world leading commercial real estate conglomerate, today signed a strategic cooperation framework agreement with China Vanke Co., Ltd ("Vanke"), a global leader in residential real estate development.
The two parties jointly announced the strategic partnership along with their intentions to deepen collaboration on both domestic and global projects. Future cooperation between the two companies will focus on the acquisition of land and joint project development, and will leverage on their respective strengths, with Wanda on commercial developments and Vanke on residential developments.
Both Wanda and Vanke are well-established premier brands in China, and the cooperation will improve the capability to secure projects; by enabling each other's unique offerings and respective specializations, development projects will be improved and their combined value will increase.
Furthermore, this alliance between two prominent real estate players spearheads a new direction for the domestic real estate industry, with a positive & far-reaching influence on its future development.
According to the agreement, the partnership will be steered by a joint team consisting of senior executives from both companies. This joint team will interact closely as long term partners and liaise on related projects.
As both Wanda and Vanke have overseas projects, the collaboration will not only be domestic but may expand globally in the future.
Wang Jianlin, Chairman of Wanda Group, commented on the strategic cooperation. "The real estate market in China has entered into a new phase of development characterized and driven by the intent to achieve a balanced supply and demand environment, and with that, real estate companies must develop a new way of thinking and a new business model to adapt to this trend. Our strategic cooperation with Vanke is a first attempt at a brand new direction for the industry. For Wanda, through our cooperation, we will be able to focus on accelerating the implementation of our 'asset-light' business model. At the same time, we believe the partnership will contribute to the industry and to society at large, through a more effective use of social resources, minimizing the unnecessary deployment of resources, and playing a leading role in the development of the real estate industry."
Yu Liang, President and CEO of Vanke, added, "The industry is entering into its 'silver age' where traditional businesses still have room to grow organically, and new opportunities will sprout from this era. This transition offers immense opportunities for leading corporations to establish meaningful alliances. Our partnership with Wanda will enable Vanke to optimize their unique competitive advantages in the residential segment, securing more customers and development opportunities as well as enhancing our capabilities in commercial real estate, and thus driving our transformation to a more service-support orientated offering."
About Wanda Group
Wanda Group operates in a number of industries, including commercial property, cultural tourism, e-commerce and finance, and with its leading property development company, Dalian Wanda Commercial Properties Co., Ltd. ("Wanda Commercial"). Wanda Commercial is the largest real estate operator in the world, owning a gross floor area of 39.04 million square meters (including properties under construction) as of the end of 2014.
About Vanke Group
Vanke Group is the largest residential real estate developer in the world, with over 210,000 residential units sold in 2014.