Wanda Group invests 100 billion yuan in Chengdu
Apr 07,2015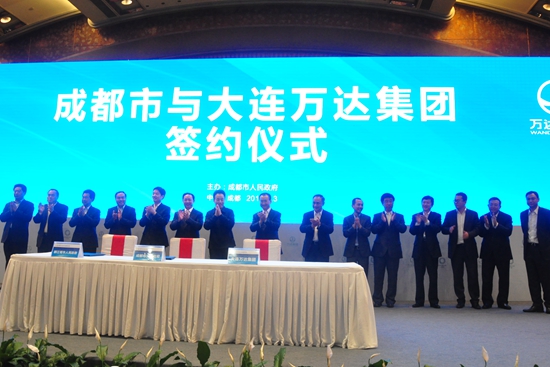 On April 3, Wanda Group held a contract signing ceremony with the Chengdu Municipal Government for projects with a total planned investment of 100 billion yuan in Chengdu, including the development of a Wanda Cultural Tourism City, a top-class international medical center, a cloud-based e-commerce center and 6 Wanda plazas. Together with previous investments in the city, Wanda will have made a cumulative investment of 130 billion yuan in Chengdu, making Chengdu the largest destination of investment for Wanda domestically.
"Chengdu is my hometown and I have always had a deep affection for her. No matter where Wanda was, is, and will be developing towards, I will always remember that I am a Sichuanese and strive to contribute more to my hometown", Wang Jianlin, chairman and founder of Wanda, commented at the ceremony.
The Wanda Cultural Tourism City with a planned investment of 53 billion yuan will be located in Dujiangyan, Chengdu. It is the Group's tenth largest culture and tourism project following that in Wuhan, Changbaishan, Xishuangbanna, Harbin, Nanchang, Hefei, Qingdao, Wuxi and Guangzhou. The Wanda Cultural Tourism City in Dujiangyan will be designed and built in accordance with high standards to achieve world-class quality, innovativeness and uniqueness. It will include an indoor Wanda Mall, an outdoor theme park, a stage show, a movie park, hotels and a bar street. Most of the entertainment facilities will be designed and built by Wanda independently using a high degree of technology of today and in a way that reflects local culture, making the project one of the best culture and tourism destination in China. Expected to be open for business in 2019, the project will create 30,000 jobs and be able to host 20 million visits a year and generate revenue of RMB 5 billion annually.
Wang said, when completed, the Dujiangyan Wanda Cultural Tourism City will become a new landmark for Chengdu and a cultural, tourism, commercial and healthcare center of the Sichuan province.
Meanwhile, the Wanda International Medical Center with a proposed investment totaling 10 billion yuan will have 500 beds and be managed by world famous hospital management teams and emerge as a top-class hospital in Sichuan and China. The cloud-based e-commerce center with a proposed investment of 3 billion will be the most advanced one see in China. Wanda also plans to develop 6 Wanda plazas in various districts or counties of Chengdu with a total investment of 34 billion yuan.
At the beginning of 2015, Wanda announced that it will embark on its fourth transformation to transform from a company that mainly focuses on land development to a company that focuses on providing high-tech services, and from a Chinese enterprise to a multi-national one. It aims to fully transform and upgrade into a company with four balanced business segments, namely, commerce, culture and tourism, financial services and e-commerce by 2020. The over RMB 100 billion investment in Chengdu, involving culture and tourism, e-commerce and healthcare, suggests Chengdu has become a key city for Wanda's transformation. The large-scale investment is also the best way for Wang to give back to his hometown.