100th Wanda Plaza opens in Kunming, close to a million jobs created
Oct 31,2014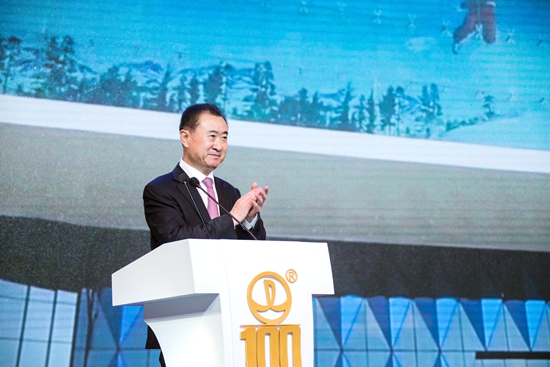 Wanda Group Chairman Wang Jianlin addresses at the opening ceremony.
Kunming Mayor Li Wenrong addresses at the opening ceremony.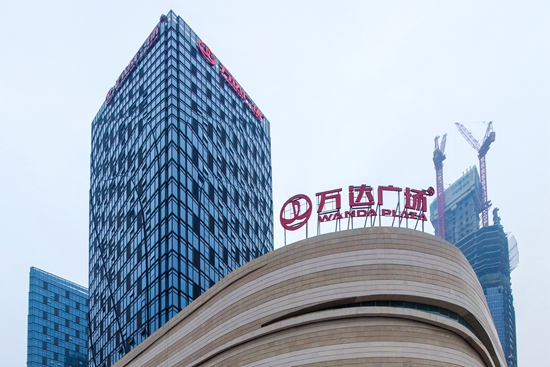 The Kunming Xishan Wanda Plaza
Wanda Group celebrated the opening of its 100th Wanda Plaza, in Xishan, Kunming, on October 31. To mark this historical occasion, events will run simultaneously at 100 Wanda Plazas nationwide. The events campaign, which is expected to be the largest of its kind in China will attract close to 50 million visitors.
Kunming Xishan Wanda Plaza is one of Wanda Group's crowning achievements. The project has a gross floor area of 710,000 square meters and includes a commercial center, luxury 5-star hotel, office buildings and apartments. The project's two 310m Grade-A office towers (Referred to as the "Kunming Twin Towers") are poised to become iconic landmarks. The property also boasts Kunming's first outdoor laser musical fountain. Built to international standards, the fountain will add a dash of magnificence to Kunming's cityscape.
Wanda Group moved into the commercial property sector in 2000. The first generation of Wanda Plazas adopted the single store model, later evolving into second-generation multi-store shopping centers and then finally developing into third-generation integrated urban complexes. By the end of 2014, 109 Wanda Plazas will have opened across China, making Wanda the world's second largest commercial property developer and in 2015 the company will become the world's largest commercial developer. In the commercial property field, Wanda pioneered the made-to-order property model, developing a comprehensive industry chain that covers all aspects of planning & design, construction and operations management. This model also allowed the company to develop commercial relationships with China's leading companies. With its mature business model and strong project execution capabilities, Wanda grew rapidly. The company now opens over 20 Wanda Plaza properties every year, a pace that is unprecedented in the field of commercial real estate. The development of Wanda Plazas has been a major contributor to China's new urbanization efforts. Every Wanda Plaza transforms its urban environment to meet the evolving lifestyle demands of local consumers. Wanda Plazas also generate a significant number of jobs wherever they launch. Statistics indicate that Wanda Plazas directly led to the creation of close to one million jobs. Needless to say, the number of employment opportunities indirectly created has been significantly higher. At the same time, Wanda Plazas contribute substantial tax revenue, which creates win-win synergistic commercial and social benefits and earns it the support of local government, consumers, and business partners.
The Chairman of Wanda Group, Wang Jianlin, said that the opening of the 100th Wanda Plaza is of great significance because it not only represents the group's overall scale, but also the global influence of the Wanda Plaza brand. "Wanda Plaza, heart of the city" is not just a slogan, it is a rallying call to improve the quality of people's everyday lives.
To mark the opening of the 100th Wanda Plaza, the company will simultaneously launch large-scale promotions at each of its 100 locations across China. As a way to thank its customers, from October 10 to November 2, Wanda Plazas will be holding more than 1,000 promotional activities, lasting over a 72 hour period. Wanda's own outlets such as Wanda Department Store, Wanda Cinema Line, Superstar Karaoke and Kidsland will be offering special promotions, while other brands will feature numerous campaigns under the 100 Wanda Plazas banner. During this promotional period, all Wanda Plazas will also stage a "100 Dreams" Charity drive as well as issue 100 Wanda Plazas Celebration themed stamps. The 100 Wanda Plazas Celebration is set to become the biggest shopping event in China's commercial history. It will boast the greatest range of offers, attract a record number of shoppers, and emphasize the enormous influence of the Wanda Plaza brand.