Wanda's One Nine Elms London project to be unveiled in Beijing
Oct 24,2014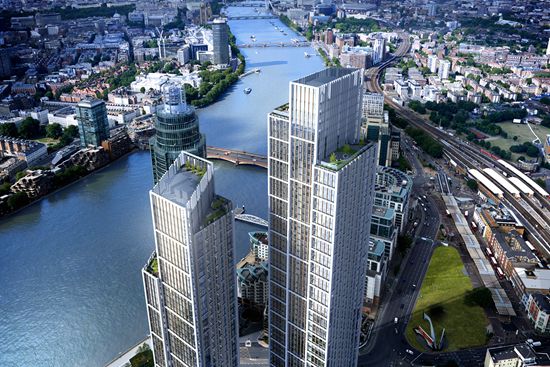 One Nine Elms alongside the River Thames
Wanda Group will unveil its first collection of apartments to be launched at its landmark One Nine Elms development in London at the Sofitel Hotel in Beijing on October 25, 2pm. The project, which has gained significant interest from various media, overseas buyers and investors within the industry, will go on sale in the Chinese mainland with a limited number of 66 units.
One Nine Elms, which is a 1 billion pound investment project, is the Wanda Group's first overseas real estate project as well as the largest single real estate investment in Europe by a Chinese property developer. One Nine Elms will consist of the 200m tall City Tower, 165m tall River Tower and the luxury 5-star Wanda Vista hotel.
Wanda Group's first overseas project stands at a height of 200 meters, is situated directly adjacent to the banks of the River Thames and will be located in close proximity to the new US Embassy, Parliament Building, Buckingham Palace and the London Eye.
Following the unveiling of One Nine Elms in Beijing on October 25, the launch will make stops in Shanghai, Guangzhou and then Fuzhou.
Contact: 400 111 7186
Beijing sales office: 1/F Block A, Wanda Plaza, No. 93 Jianguo Road, Beijing