Wanda Group joins forces with Baidu and Tencent to establish world's biggest O2O e-commerce company
Aug 29,2014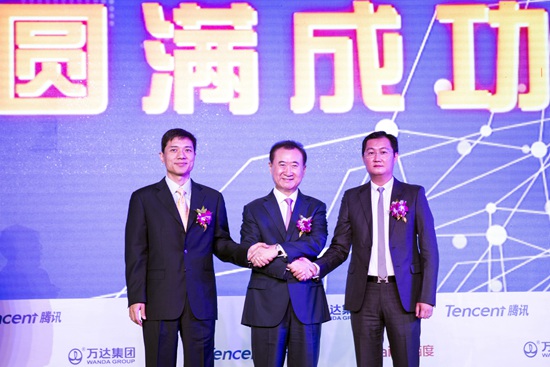 Wanda Group, Baidu and Tencent announced today at a signing ceremony held in Shenzhen, that they will establish the "Wanda E-commerce Company", a Hong Kong registered joint venture. The JV will invest initial capital of RMB 5 billion (US$814 million), with Wanda Group holding 70% equity, while Baidu and Tencent each own a 15% stake respectively.
Wanda Group Chairman Wang Jianlin, Baidu, Inc. Chairman and Chief Executive Officer Robin Li and Tencent, Inc. Chairman of the board and Chief Executive Officer Pony Ma attended the signing ceremony.
Wanda Group is a global leader in real estate, as well as China's largest cultural enterprise and the world's largest cinema operator. The company expects to attract over 1.5 billion customers to its Wanda Plazas, hotels and resorts in 2014, solidifying its position as China's largest offline commerce platform. Wanda conservatively estimates that its properties will draw in over 5 billion consumers annually by 2020, making it the world's largest offline commerce platform.
As China's largest search engine, Baidu possesses world leading technical capabilities and the most extensive big data resources. Baidu is China's largest internet portal, as well as the largest distribution platform for applications and services, with over 6 billion relevant search requests per day and over 10 billion monthly mean daily PVs for its location based services.
Tencent's range of online products has the largest user base and highest activity in China. As of June 30, monthly active users on Tencent's QQ instant messaging service reached 829 million, while its mobile social platform WeChat exceeded 438 million active users.
Wanda, Baidu and Tencent are all leaders in their respective industries, which will allow them to combine their respective strengths by integrating corresponding products to create a world leading O2O e-commerce business model.
Wanda, Baidu and Tencent will cooperate closely together in developing payment and e-commerce financial products, building a universal customer loyalty program, big data integration, Wi-Fi sharing, and product integration.
The integration of online and offline business is an inevitable trend in the development of the e-commerce industry, said Wanda E-commerce Company CEO Dong Ce. The tie-up with the two IT giants will elevate Wanda Group, who owns the world's most abundant offline commercial resources, to become the world's largest O2O platform, according to Dong.
Wanda E-commerce will launch e-commerce services in all 107 Wanda Plazas, including those yet to open this year, by the end of this year. By 2015, all Wanda's plazas, hotels and resorts will be equipped with e-commerce services, said Dong, predicting that Wanda e-commerce membership will exceed 40 million this year and is expected to increase to over 100 million by next year.
Wanda E-commerce will also seek to develop a series of innovative online financial products through direct collaboration with Wanda's financial arm.
Dong revealed that Wanda E-commerce Company has registered a very "cool" new name for the joint venture, which will be announced on the day of its official launch.