Wanda acquires 'Jewel' project in Australia's Gold Coast
Aug 12,2014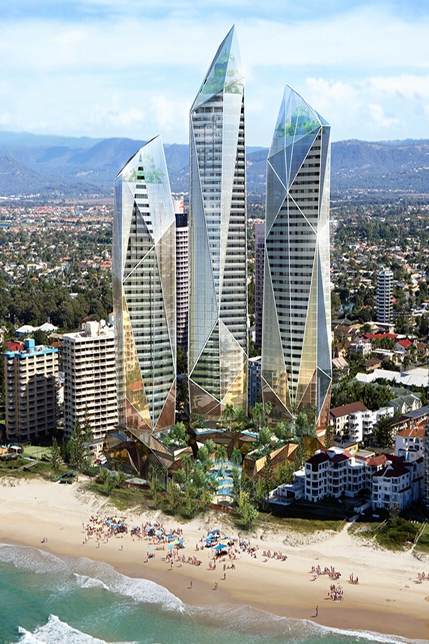 Wanda Group hereby announces it has purchased the famous Jewel project in Australia's Gold Coast. As Jewel's absolute controlling shareholder, Wanda will jointly develop the project with its original owners. The company plans to invest USD900 million to build a luxury five-star Wanda Vista hotel and serviced apartments. The Jewel is Wanda's fifth overseas hotel project announcement.
The Gold Coast is situated in Australia's Queensland State and is one of the world's top ten tourist destinations. 21.7 million tourists visited the city in 2013, with 415,000 of them coming from China, growing 24% year-on-year. The city is known as the "Gold Coast" due to its stretch of over 50 km of pristine gold sandy beaches and crystal clear waters. The Gold Coast enjoys a pleasant year-round climate, with a maximum summer temperature of 33 degrees Celsius, a minimum winter temperature of 15 degrees Celsius and low humidity, making it a dream travel destination.
The Jewel development is located at Surfers Paradise, a celebrated heart of the Gold Coast. It is the city's only five-star hotel and apartment project approved to be built on the beachfront. With a planned gross floor area of 146,000 square meters, the project will comprise three towers, one of which will be a five-star hotel, while the other two will house serviced apartments. The Jewel's design is especially unique and is the first project on the Gold Coast to adopt the façade cladding technique to represent three crystalline forms on the beach. The project's central park, conference rooms, restaurants, bars and other entertainment facilities will be located directly on the beachfront. The landmark Jewel project will begin construction in 2015 and open in 2018.
Wanda has quickened its overseas development in recent years and aims to build at least 15 luxury five-star Wanda Vista hotels in 15 international cities by 2020.