Wanda convenes semi-annual meeting: Performance targets met
Jul 14,2014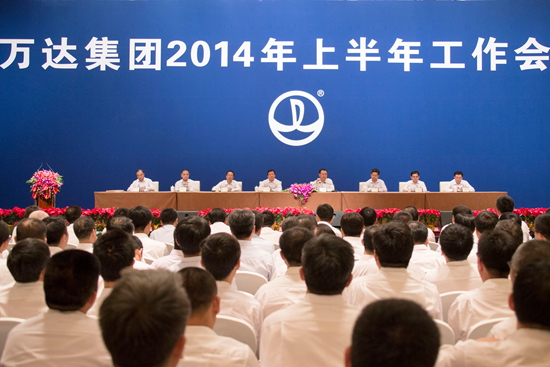 Wanda Group's 2014 semi-annual meeting was convened at the Wanda Realm Hotel in Harbin on July 12th.
In spite of China's current downturn in economic growth, the company was able to maintain its exceptional overall growth, reporting a 21% increase in total assets to 460 billion yuan and a 24% increase in income to 92.07 billion yuan, comprehensively reaching its performance targets by a margin of 105%.
The group's main businesses such as commercial real estate, luxury hotels, culture & tourism and department stores all achieved first half targets, in addition to achieving significant overall growth.
Income from Wanda Commercial Properties grew 18% year-on-year to 66.85 billion yuan; with rental income growing 36% year-on-year to 5 billion yuan; and the rental collection rate reached an unprecedented industry level of 99.9%. Total foot traffic for Wanda Plaza's in the first half of the year reached 720 million, with that number projected to swell to 1.5 billion at the end of 2014.
Wanda Culture Industry Group's income grew 29% year-on-year to 14.09 billion yuan, while total income for Wanda Department Stores grew 62% year-on-year to 11.13 billion yuan, completing its semi-annual target for the first time in 2 years.
Wanda Group's total assets for 2014 are projected to reach 500 billion yuan, with total income expected to exceed 244 billion yuan. Wanda Group Chairman Wang Jianlin expressed that achievements for the first half of the year were a result of hard work carried out by staff across the entire organization and called out for employees to dig deep to fulfill year-end targets to achieve a milestone 9 years of consecutive growth in revenue above 30%.