Guangzhou Zengcheng welcomes Wanda Realm Hotel
May 20,2014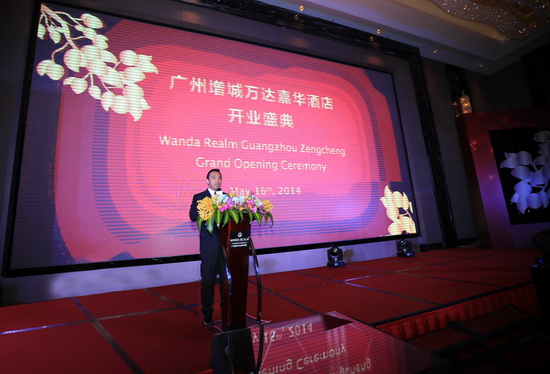 Wanda Realm Guangzhou Zengcheng, owned and managed by Wanda Hotels & Resorts, celebrated its grand opening on May 16, 2014. This is the first Wanda realm hotel located in Southern China to be managed by Wanda Hotels & Resorts. Close to 300 distinguished guests joined together to witness the opening ceremony.
The Wanda Realm Guangzhou Zengcheng will become the preferred hotel for international business and leisure travelers in the area. Featuring a unique eastern ambiance, the hotel will offer its distinguished guests a memorable experience with its efficient service and warm design.
Wanda Realm Guangzhou Zengcheng is conveniently situated in Guangzhou suburb city Zengcheng. It takes only 50 minutes by car from the hotel to Guangzhou CBD and 60 minutes to Guangzhou Baiyun International Airport.
The hotel's 285 chic guestrooms and suites are an oasis of comfort and style. Rooms start at a spacious 40 sqm, while the Presidential Suite reflects your status with 200 sqm of pure prestige. All rooms feature Wanda Realm's signature "Bed of Realm" and "Dream Catcher", as well as an elegant bathroom with a rainforest shower and a comfortable bathtub.
The hotel provides a variety of culinary experiences for guests, a lounge bar and an outside terrace. The open kitchen of Café Realm provides a wonderful ambiance for relaxed all-day dining, including its signature "Takeaway Breakfast". The Chinese restaurant, ZHEN, focuses on original and exquisite Cantonese cuisine. The Lobby Lounge bar is the most elegant bar in town to enjoy an afternoon tea or a glass of wine after an intensive day of business in Guangzhou. A "24-hour Selections" in-room dining is also available. The hotel's signature CHA journey, performed by a professional Kungfu tea master, is an exquisite Chinese etiquette experience of preparing and enjoying a unique selection of China's finest tea.
The hotel's magnificent 1,300-square-meter Grand Ballroom with a height of 9 meters, is fully equipped with state of art LED screen devices and HI-FI sound system. This is a breathtaking space for the city's finest business meeting and for special occasions.