90 selected as finalists for Wanda 'China's Future Football Stars'
May 05,2014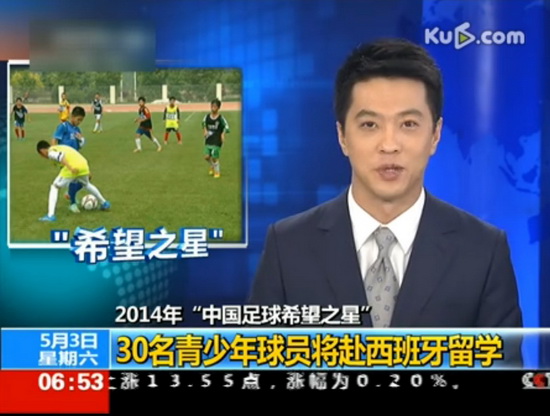 A screenshot from TV news about Wanda's "China's Future Football Stars" second round selection.
The second round selection of 2014 for Wanda's "China's Future Football Stars" was held at the Wanda Institute in Langfang, Hebei Province on May 1 and 2.
90 young footballers were selected as finalists out of 160 competitors. 30 youngsters will go on to attend a 3-year youth training program in Spain. Nine expert footballing scouts were brought in from Spain to handle the selection process.
Serving as the most important cooperation between Wanda and the Chinese Football Association, the "China's Future Football Stars" project is being funded by the Wanda Group with an initial phase-I investment of at least 200 million yuan, the biggest sponsorship in domestic youth sport development since 1949. The program will see 30 young footballers sent to Spain each year for a three year training program that will consist of football training, as well as education in Spanish language and local culture.
The project is already entering its third year and has slowly gained a reputation among football loving enthusiasts and parents alike, which has made this year's competition much fiercer than previous years.
The first round selection began in February, when experts from three Spanish first-division clubs, Atletico Madrid, Villarreal and Valencia, visited several football training facilities in China to select candidates.
The names of the 30 winners will be posted on www.sina.com, Wanda's official website www.wanda.cn, as well as the official websites of Atletico Madrid, Villarreal and Valencia.
After being evaluated by a third-party organization, outstanding players will have the opportunity to extend their training programs for another 3 years, according to Wanda Group Chairman Wang Jianlin when visiting the young football players in Spain earlier this year.