Forbes: China market alone can't sate Wanda's ambition
Apr 21,2014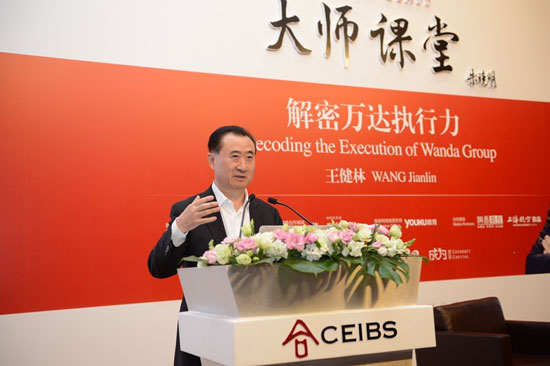 Wanda Chairman Wang Jianlin explained the company's success to an overflow audience of 600 at the China Europe International Business School on Saturday, April 12. [photo courtesy of Forbes]
As big as the China market is, it's not enough to sate the business ambitions of the country's richest man.
"The goal we have set for ourselves is to exceed $100 billion in revenue in 5-6 years," Dalian Wanda Group Chairman Wang Jianlin said in a speech to an overflow audience of 600 at the China Europe International Business School in Shanghai on Saturday. "If we were only in the mainland China during that time, we'd definitely have difficulty reaching that kind of revenue."
Wang suggested part of the "difficulty" would come from slower economic growth at home in China. "In the past we felt eight (percent GDP growth) wasn't very high," he said. "Perhaps after a few years, we'll think five (percent GDP growth) is okay, and then after a few years, three (percent GDP growth) will be okay."
Wang made the remarks during a question and answer period following his first-ever address at CEIBS, "Decoding the Execution of Wanda Group." Wanda, whose business includes real estate and the entertainment, ranks as one of China's largest companies with revenue of $31 billion in 2013. Wang was first among the 152 mainland Chinese entrepreneurs to make the 2014 Forbes Billionaires List with wealth of $15.1 billion. Wanda has stepped up its international investment in recent years through the acquisition of the AMC movie theatre chain in the U.S., yacht maker Sunseeker of the UK, and real estate in the UK and Spain.
Discussing Wanda's management approach at length, Wang said the company's execution skills are "strong," and noted that success in real estate requires expertise in cost control. He also attributed Wanda's success in execution to the company's cultural and management style.
Once a company has internationalized, Wang told the audience, changes in its thinking will follow. One change that hasn't happened among senior leaders at Wanda is that meetings are still conducted in Mandarin Chinese. "Why?" asked Wang. "Because if they want to exchange with me, my English (skills) are zero," the billionaire said to laughter from the crowd.
Wang said Wanda's pursuit of overseas business was in line with a broader goal of creating a company that can survive a century. "To carry out our goal, we have to internationalize," he said. Overseas business helps diversify market risk and generate candidates for mergers and acquisitions, Wang noted. "Among the world's 500 largest companies, not one has completely relied on its own growth to develop," he said. Wang also noted, as he has elsewhere, that Wanda was considering the purchase of a large international hotel chain.
Wang, who had a long career in the military before he became an entrepreneur, took a question from an audience member who asked whether Wanda's culture was influenced by his early background in life. "Yes," he said, noting that numerous business leaders around the world had graduated from military academies. "Not every solider definitely will be successful," Wang said, but military culture provides a foundation for success. "Having the courage to innovate and persistence" were the two reasons for his own personal success, Wang said.
(Source: Forbes)