Wanda Cinema supports FIFA World Cup Trophy Tour in Shanghai
Apr 11,2014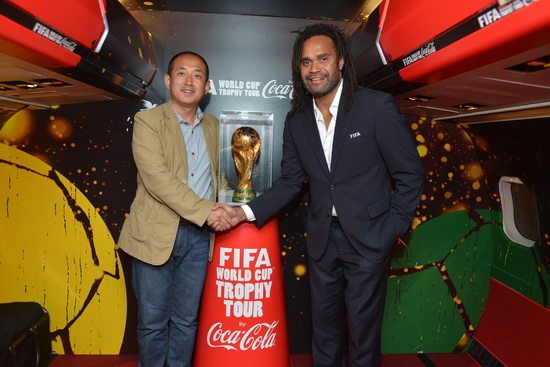 The Coca Cola FIFA World Cup Trophy Tour stopped off in Shanghai on April 9. Wanda Cinema Line has been actively engaged in this event by carrying out a series of collaborative promotions with Coca Cola.
Wanda Cinema Line selected 10 people from members of its 143 Wanda cinemas across China to serve as "Ambassadors" to escort the trophy. The 10 "Ambassadors" accompanied the trophy from Beijing to Shanghai together with FIFA officials.
The trophy arrived at Shanghai Wujiaochang Wanda Plaza on the morning of April 9. Tens of thousands of football fans convened at the plaza to revel in the atmosphere and attend a football match. The winners of the match were awarded the chance to have their pictures taken with the trophy.
This is the third time that the world's most coveted symbol of football has embarked on a worldwide tour. The 2014 Trophy Tour will visit 89 countries during its 267-day duration.