Wanda Cinema, AMC attend CinemaCon together for 1st time
Apr 03,2014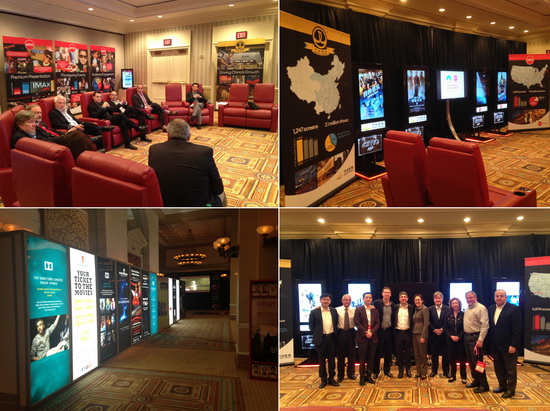 A joint delegation featuring representatives from Wanda Cinema Line and AMC Entertainment attended the CinemaCon expo together for the first time, the most prominent annual event in the world's film distribution and projection industry, held in Las Vegas from March 23 to 26.
CinemaCon is the official convention of the National Association of Theatre Owners (NATO). As a key member of NATO, Wanda Cinema Line attended the event numerous times to promote their cinema brand internationally.
The presence of AMC and Wanda Cinema Line together attracted significant attention from all Hollywood production studios at the event. Executives from leading Hollywood companies, including Walt Disney, Paramount, Warner Brothers, Sony, Fox and Legendary, held closed-door meetings with Wanda Cinema Line and AMC management to exchange views on co-production films, joint distribution and marketing, authorization of film derivatives and more. They also reached a consensus on deepening cooperation with Wanda Cinema Line and Wanda Media Co Ltd.