Wanda Realm Hotel opens in Langfang
Apr 03,2014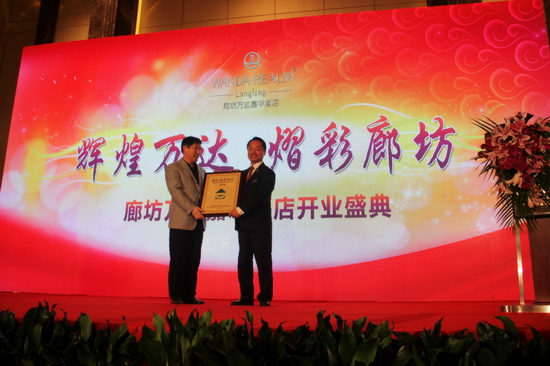 The opening ceremony of the Wanda Realm Langfang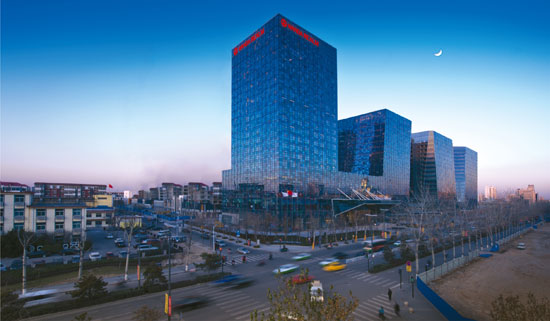 The panorama of the Wanda Realm Langfang
Wanda Hotels and Resorts announced the opening of its twelfth Wanda Realm hotel in Langfang, Hebei province, on January 1, 2014. Vice President of Operations of Wanda Hotels and Resorts, Mr. Michael Stevens and Vice President of Sales & Marketing of Wanda Hotels and Resorts, Mr. Ilja Poepper joined the hotel team to celebrate the grand opening together with over 200 guests and media on March 31.
"As a warm and comfortable dream point for business travelers, Wanda Realm Langfang offers its guests an unforgettable journey and unique Oriental cuisine, which aims to delight both Chinese and overseas guests who are visiting or residing in Langfang." said Vincent Wang, the General Manager of Wanda Realm Langfang.
The Wanda Realm Langfang is situated in the city's central business district and forms part of the Wanda Plaza Langfang complex, which features convenient entertainment, shopping and recreational facilities. The hotel is only 5 minutes drive from Langfang Railway Station, 60 minutes from Beijing Capital International Airport and 30 minutes by car from the near completed Beijing Daxing International Airport.
The hotels' 295 elegant guest rooms and suites provide an oasis of comfort and style. Starting from the 40 square meter room, each guest room features a signature "Bed of Realm" that guarantees to deliver a comfortable and heavenly sleeping experience. The guests can freely choose various sleeping aid conveniences from the original "Dream Catcher" series such as relaxing music through "Sound of Sleep" to enjoy the same kind of comfort and ease of sleeping at home. Each guest room features "The Book of Liki", for guests interested in acquainting themselves with this classic Chinese national treasure.
Stepping into the lobby of the Wanda Realm Langfang, the light scent of Green Bamboo surrounds the guest, creating a fresh and relaxing environment. "Wanda Realm Angels" deliver an unparalleled hosting experience both at the guests' arrival and departure with sincerity, enthusiasm and meticulous care. In a quiet space of the lobby, our professional tea master uses selected teas to present the signature "Cha Journey" to offer guests professional tea performances. The guests can also experience the city's premier health and fitness club, which features an indoor heated swimming pool and fully-equipped fitness center. It's an ideal place for business travelers and local residents to relax and unwind after a stressful day at the office.
Wanda Realm Langfang offers various world-class dining options that guarantee to satisfy discerning guests. Café Realm serves up a sumptuous international buffet, a fabulous a la carte menu and a convenient and delicious "Takeaway Breakfast"; ZHEN Chinese Restaurant specializes in local and Cantonese cuisine by presenting exquisitely authentic dishes, paying special attention to offer balanced nutrition; the elegant Lobby Lounge offers a comfortable environment with an extensive drink list as well as delectable snack and dessert choices. You can relax over an afternoon tea, sip a cocktail alone or have a few drinks with your friends. "24hrs Selections" in-room dining is available around the clock.
The Wanda Realm Langfang offers the finest meeting and banquet venues for any occasion, complemented by services that set a new standard for excellence. From the 1,100 sqm pillar-free Grand Ballroom, to the six different-sized function rooms, all the venues feature advanced meeting facilities, audio-visual and multimedia technology, as well as free high-speed WiFi. An Exclusive Meeting Director provides one-stop event management services to support and ensure the success of each event.