Wanda Reign picture displayed at New York Times Square
Apr 02,2014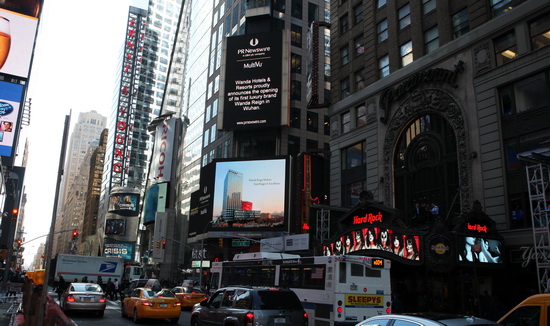 Wanda Group unveiled its first premier luxury hotel brand Wanda Reign in Wuhan, Hubei Province on March 29. The same day an image of the hotel was displayed on the big screen at the New York Times Square, amazing visitors from around the world with its extravagance and splendor.
Named "The Crossroads of the World", the Times Square attracts approximately 40 million tourists every year. The image of Wanda Reign will rotate on the screen outside of the Thomson Reuters Building for three days, for duration of 15 seconds each time. The main screen is 10 meters in height and 11 meters in width, surrounded by four screens, which display the caption.
As Wanda Hotels & Resorts' premier luxury hotel brand, the Wanda Reign Wuhan is the first Wanda Reign hotel ever to open. The company also owns two other brands -- the five-star Wanda Realm and the luxury five-star Wanda Vista.