Groundbreaking ceremony held for Nantong Wanda Plaza
Apr 01,2014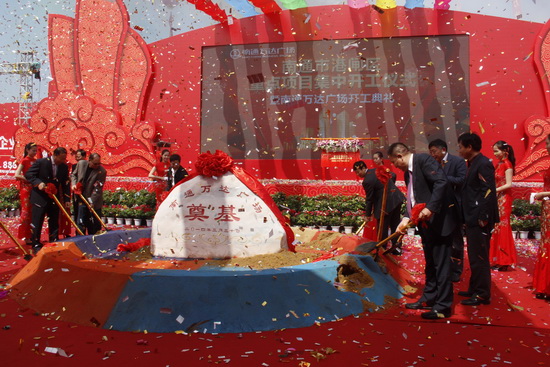 A groundbreaking ceremony was held for the latest Wanda Plaza project in Gangzha District, Nantong city of Jiangsu Province on March 30.
Nantong Wanda Plaza is considered one of the city's key construction projects and is also Wanda's first project there. The recent surge in large-scale commercial real estate projects in Nantong marks the beginning of a new chapter for the city and marks the shift towards a more international and cosmopolitan urban landscape.
The Nantong Wanda Plaza integrate business, leisure, and entertainment and culture functions into one complex. The property will feature a large-scale shopping center, commercial pedestrian street, supermarkets, cinemas, department stores, a video game arcade, Karaoke and much more, enabling it to cater to a variety of individual needs
The plaza will meet the demand for a world class commercial and shopping complex in Nantong and will contribute to the upgrade of the city's commercial infrastructure and overall image as a prime business and travel destination. The plaza is expected to generate large tax revenue for the local government and create a large amount of new jobs.