Taizhou Jingkai Wanda Plaza holds groundbreaking ceremony
Mar 14,2014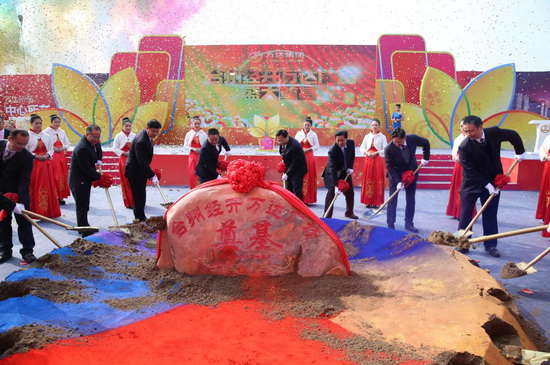 A groundbreaking ceremony was held for the Jingkai Wanda Plaza project in Taizhou city, Jiangsu province on March 13.
The ceremony was attended by Taizhou Deputy Party Secretary and Mayor Zhang Bing, Taizhou NPC Deputy Director Peng Youlai, Taizhou Deputy Mayors Li Yuechang, Zhao Yuejin and Dong Guibo as well as other senior officials. Wanda Commercial Properties Vice President Qu Xiaodong attended the event, along with representatives from various local government departments, local media and VIPs.
The Taizhou government regards the Jingkai Wanda Plaza as one of its cornerstone investment projects. The entry of major commercial real estate projects into the Taizhou market is not only a good sign for Wanda's future growth in the region, but also for the development of the local infrastructure based economy.
With a total investment of 4.6 billion yuan, the Jingkai Wanda Plaza is a mixed-use development that will integrate shopping, dining, leisure and entertainment functions into one urban complex.
The project will include a Wanda Department Store, IMAX Cinema, Superstar Karaoke and feature a video game arcade, supermarkets, children's entertainment and retail, as well as food and beverage outlets, an indoor pedestrian street, a urban commercial street and luxury apartments.