Wang Jianlin is Forbes China's 2013 Businessman of the Year
Dec 26,2013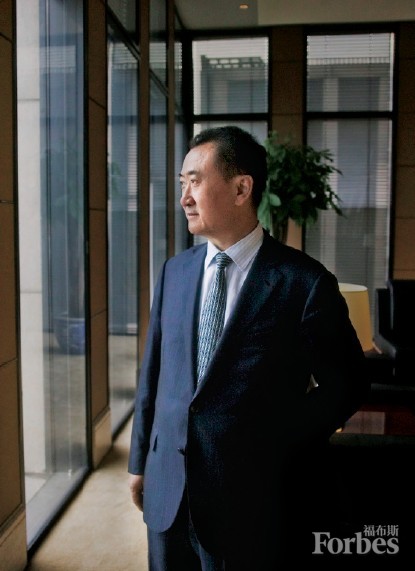 Image courtesy of Forbes
Wanda Group Chairman Wang Jianlin is chosen as Forbes China's 2013 Businessman of the Year for his determination and courage to seize the opportunities during China's rapid ascent from rural backwater to urban economic powerhouse and his rise as a Chinese business star on the world stage.
The flourishing Chinese real estate market and outstanding performance of Wanda Group's properties strongly supported Wanda's robust investments and increased Wang's personal wealth to 86 billion yuan, making him No. 1 on Forbes China Rich List for the first time.
After 25 years' of development, Wanda has become China's biggest commercial property company and set a benchmark for the industry. To some extent, Wanda is an example of Chinese enterprises fuelled and benefitted from China's modern urbanization. With a portfolio of 82 Wanda Plazas across China, the company plans to increase the number to 110 in 2014 with a total real estate space of 23 million square meters, becoming the world's largest property company.
Wanda is also China's largest investor in cultural tourism. The 50 billion yuan funded Wuhan Central Cultural District (Phase I) and the 20 billion yuan Changbaishan International Resort have now become fully operational. The Qingdao Oriental Movie Metropolis project, funded by 50 billion yuan investment from Wanda, amazed the world this year with a star-studded opening ceremony. Wanda's culture empire also includes cinema chain and other culture investments, making Wang the representative of Chinese private entrepreneurs who help to build the country's soft power.
In addition to actively involving in China's urbanization by building Wanda Plazas across China, the company became a forerunner of Chinese private enterprises to invest overseas. In 2012, Wanda acquired the world's second largest theater operator AMC in the United States. In June 2013, Wang announced to acquire luxury yacht maker Sunseeker in the United Kingdom and invest £700 million to build a Wanda hotel in London and build more hotels in 8 to 10 major overseas cities within 10 years. "Revenue from overseas will hit 100 billion yuan by 2020," Wang told Forbes. In this sense, Wang represents a rising "China power" in the world's business arena.
Forbes China's Businessman of the Year, selected once every year, awards those who can best represent or influence the trends of Chinese economy. It is the fourth consecutive year for Forbes China to publish its choice for the Businessman of the Year as the cover story for the year's last issue. Suning Appliance's Zhang Jindong and Lenovo's Liu Chuanzhi were awarded the title in 2012 and 2011 respectively, while Tencent's Ma Huateng, Alibaba's Jack Ma and Baidu's Robin Li made the list in 2010. In 2009, ten most respected Chinese entrepreneurs, including Huawei's Ren Zhengfei, won the award.
Forbes China's December is out with a cover story titled "Chinese Mughal", which is a series of stories of its exclusive interview with Wang. Forbes also published the stories on its iPad e-magazine, Chinese website and social network.