Wang Jianlin attends luncheon with UK trade minister
Sep 05,2013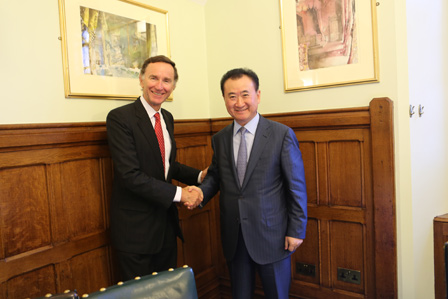 Wanda Group Chairman Wang Jianlin, who is currently in the UK on the second stop of his European tour, met with Baron Green of Hurstpierpoint, the Minister of State for Trade & Investment of the UK in the Palace of Westminster on September 2.
Baron Green welcomed Wang's visit to London and congratulated him on Wanda's successful acquisition of Sunseeker International and its investment in a five-star hotel project in London. He added that the British government welcomes and encourages foreign investment and hopes that both sides can benefit through cooperation. He also vowed to fully support Wanda's development in the UK and looks forward to further future investment from the company.
Wang Jianlin thanked Baron Green for his invitation and for the British government's support. He praised the UK for its well-established legal system, its honest people and its profound cultural background and deemed the country an ideal destination for foreign investment.
Wang said that Wanda will spare no effort to build a high-quality hotel in London, increase Sunseeker's global market share and continue its search for further investment opportunities in the UK.