Wang Jianlin visits Sunseeker headquarters in Poole
Sep 02,2013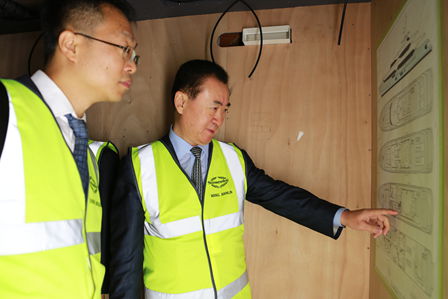 Wang Jianlin visits the assembly shop in Sunseeker manufacturing base in Poole.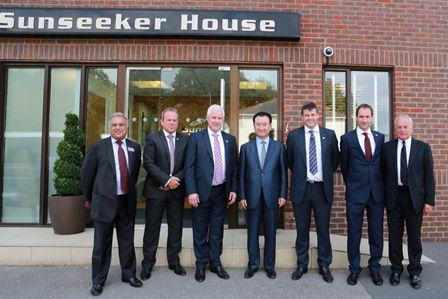 Wang Jianlin and Sunseeker executives pose for a group photo.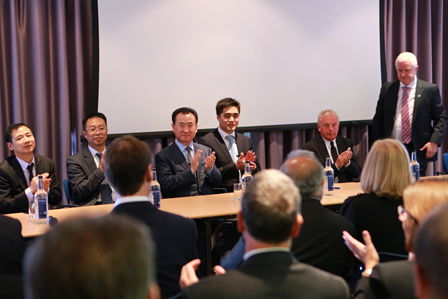 Wang Jianlin meets with Sunseeker staff.
Wanda Group Chairman Wang Jianlin, who is currently in the UK on the second stop of his European tour, left London for Poole to visit the headquarters of Sunseeker International on August 30.
Wanda has just officially completed its takeover of Sunseeker, a luxury motor yacht manufacturer in late August.
Wang met with Sunseeker executives and staff representatives, visited the manufacturing shop, the technical center and boarded a Sunseeker yacht.
Stewart McIntyre, Managing Director of Sunseeker, introduced the company's history, current state of development and its future plans. Chairman Wang was also given a debriefing from various department heads.
Wang discussed the Wanda Group business and welcomed Sunseeker to join the Wanda family, and evoked the future of Sunseeker. Wang said in a speech that Wanda will fully support Sunseeker's development and also encouraged the company to explore the growing Chinese market by establishing a factory in China.
He also hopes Sunseeker staff will enjoy a considerable pay rise. "Believe me. I'll be a good boss," said Wang, followed by a big round of applause.
Sunseeker has more than 2,500 staff, most of whom have worked for Sunseeker for more than 10 years and almost all members of senior management have worked for the company for more than 20 years.
Established in 1968, Sunseeker has become one of the world's leading luxury yacht makers with annual sales of $500 million. By joining Wanda, Sunseeker will sail further in the global market. With Sunseeker's alliance, Wanda will take one step closer towards its goal of being a truly international company.