Wang Jianlin visits LVMH on European tour
Aug 29,2013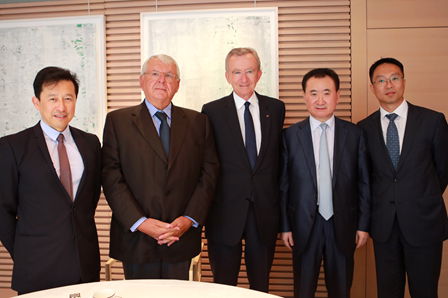 Wang Jianlin and Wanda executives pose with LVMH Group executives
Wang Jianlin presents a gift of Chinese calligraphy to LVMH Group Chairman Bernard Arnault.
Wanda Group Chairman Wang Jianlin visited LVMH Group on August 27 in Paris, the first stop of his European tour.
Wang met with LVHM Group Chairman Bernard Arnault and Managing Director Antonio Belloni. Wang was accompanied by Zhang Lin, Wanda Cultural Industry Group Executive President, Liu Chaohui, Senior Assistant President of Wanda Group and General Manager of Investment Management Center, and Lou Yun, Assistant to the President of Wanda Commercial Properties Co Ltd and Vice General Manager of Wanda Department Stores.
Wang will now head to the UK to inspect Wanda's hotel project site in London, followed by a visit to Poole to meet executives and staff from Sunseeker. Wang will also be meeting with officials and business leaders from both cities.