'Future Football Stars' to leave for Spain in Sept
Aug 29,2013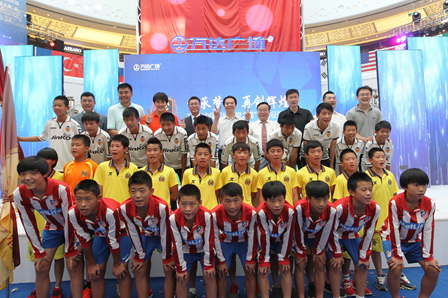 The send-off ceremony for the Wanda-sponsored "China's Future Football Stars" Team to Spain was held at the Shenyang Olympic Wanda Plaza on August 24.
Thirty young football players under the age of 13, selected from across the country by 12 Spanish coaches, will go to Spain to receive training in three Spanish first-division clubs, Atletico Madrid, Villarreal and Valencia.
The players will arrive in Spain in early September for a three-year stint, during which time they will be trained like local players, participate in at least 25 matches every year, and learn the local culture.
Wanda Group Chairman Wang Jianlin believes the priority of the strategic cooperation between the China Football Association and Wanda lies in youth development. "The problem with Chinese football is a low penetration rate among teenagers," he said, noting: "Cultivating teenage players is like laying a building's foundation. Only with a solid foundation can Chinese football make a turnaround."
It has been one year since Wanda launched the China Future Football Star Program. Its first phase was funded with at least 200 million yuan, the biggest sponsorship for youth sport development since 1949. The group already sent 30 teenage players to Spain last August. After a year in training, the future football stars have made significant progress in terms of football skills, mastering the Spanish language, as well as assimilating into the local culture.