Wanda Group wins CIO 100 award
Aug 23,2013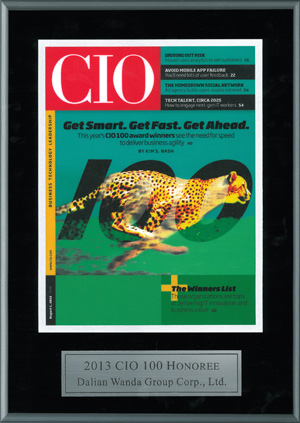 Wanda Group was recognized recently as a winner of the 2013 CIO 100, the executive-level IT media brand providing insight into business technology leadership.
Wanda is China's first private company to win this award. Wanda won the award with an IT project that delivered an end-to-end business application on a new private cloud computing infrastructure.
The company's chain of movie theaters expanded rapidly, but the growth came with challenges, such as each theater operating separately on its own systems. So the company decided to streamline business processes and centralize management of key business activities, such as promotion and scheduling for new movie releases. The company also wanted to improve the customer experience. So it embarked on an application that includes scheduling management, ticketing, promotions, loyalty management and customer data analysis. Moreover, various customer-facing applications were launched on top of the infrastructure, including a mobile application and online portal. The initiative contributed to increased revenue and market share.
IDG's CIO is an annual awards program recognizes 100 organizations that have distinguished themselves by creating business value through the innovative use of IT. The winners will be recognized.