Wuhai Wanda Plaza stages groundbreaking ceremony
Aug 22,2013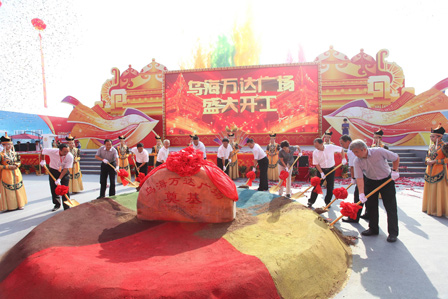 Wanda Group held a groundbreaking ceremony for its Wuhai Wanda plaza in North China's Inner Mongolia Autonomous Region on August 21.
Government officials including Wuhai Party Secretary Hou Fengqi and Acting Mayor Bao Gang, as well as Wanda Commercial Properties Vice President Yu Xiuyang, attended the ceremony.
The project is situated in the central area of Haibowan District and has a total construction area of 144,300 square meters. The complex will house a large shopping center, office buildings, a department store, supermarkets, cinemas as well as a five-star hotel and luxury apartments.
The plaza is expected to greatly improve the overall level of Wuhai's business, commerce, trade, service and entertainment sectors.