Wanda Group launches official Facebook and Twitter accounts
Aug 22,2013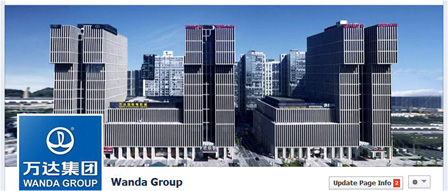 The Wanda Group is increasing its interaction with an international audience by opening dedicated accounts on social networking sites Facebook, Twitter, Youtube and Linkedin.
The newly opened accounts will allow Wanda to broadcast their message and promote their brand across a wide platform to a global user base. Information related to Wanda's history, latest news, plans for the future and other helpful content will be posted on a daily basis.
The Wanda Group has increased its international profile in recent years through several high profile overseas buyouts including the acquisitions of American theater chain AMC and the British luxury yacht maker Sunseeker.
Welcoming you to Wanda's official homes on ----
Facebook: (Wanda Group) https://www.facebook.com/pages/Wanda-Group/621585651206330
Twitter: (Wanda Group) https://twitter.com/DalianWanda
Youtube: (dalianwandagroup) http://www.youtube.com/user/dalianwandagroup
Linkedin: (Dalian Wanda Group) http://www.linkedin.com/company/dalian-wanda-group