Tai'an Wanda Plaza holds groundbreaking ceremony
Aug 16,2013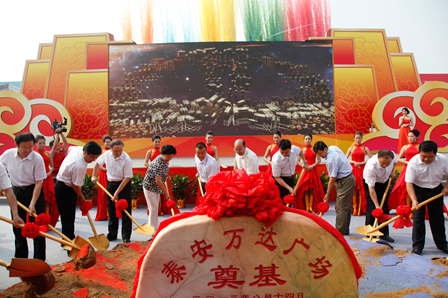 Wanda Group held a groundbreaking ceremony for its Tai'an City Wanda plaza, located in East China's Shandong Province on August 14.
Nearly 600 guests attended the ceremony, including Tai'an Party Secretary Li Hongfeng, Deputy Party Secretary and Mayor Wang Yunpeng.
The complex will house a large shopping center, five-star hotel, commercial pedestrian street, high-end office buildings and Soho residences.
The plaza is expected to become Tai'an's largest luxury commercial center as well as the city's premier landmark. It is expected to completely reshape Tai'ans urban landscape, stimulate economic growth, accelerate the shift from traditional to modern industry and improve the city's image.