AMC holds opening ceremony for new headquarters
Aug 13,2013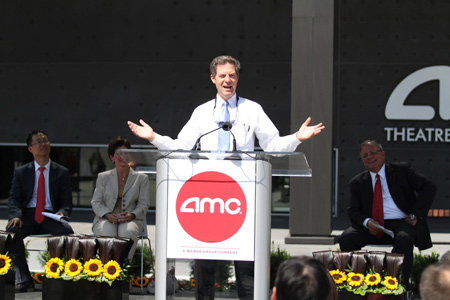 Kansas Governor Sam Brownback makes a speech during the opening ceremony of AMC's new Theatre Support Center in Leawood City on Aug 6.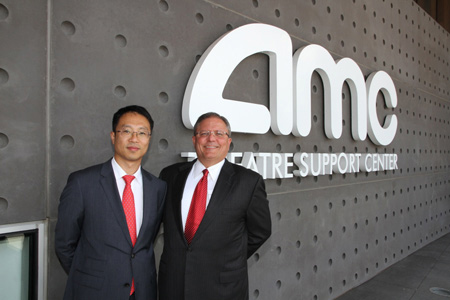 Zhang Lin (L), Executive President of Wanda Cultural Industry Group, and Gerry Lopez, President and CEO of AMC, pose for a photo at AMC's new Theatre Support Center in Leawood City on Aug 6.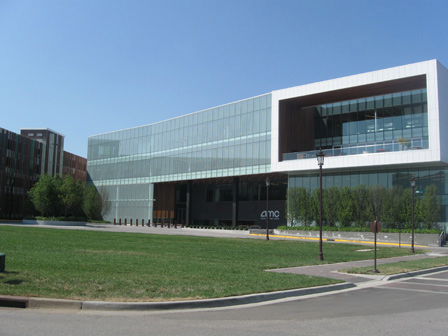 The panorama of the AMC's new Theatre Support Center in Leawood, Kansas.
American theater chain AMC Entertainment Holdings opened a new Theatre Support Center in Leawood, Kansas on August 6.
The center will function as the new headquarters of AMC, a subsidiary of the Dalian Wanda Group.
AMC company executives were joined by Kansas Governor Sam Brownback, Leawood Mayor Peggy Dunn, Executive President of Wanda Cultural Industry Group Zhang Lin and a host of dignitaries to celebrate the opening of the company's new headquarters.
"The center was designed with an open floor plan, to provide our associates with an efficient, collaborative environment and the most innovative amenities available," said Gerry Lopez, president and CEO of AMC, adding: "This thriving, productive space enables our team to provide superior support to our front lines – our theatres – so we can deliver the best possible experience to our guests.
In order to ensure the Leawood-based associates could better support the theatres, many of the center's design elements features cutting-edge technology, such as the state-of-the art Theatre Operations Center, for troubleshooting a host of technical issues as they arise throughout the circuit. The center also features Wi-Fi throughout, to improve connectivity to the theatres.
Zhang Lin read a congratulatory letter from Wanda Group Chairman Wang Jianlin, in which Wang hailed the opening of the center as a milestone for AMC which demonstrated the company's strength. Wang also wrote that he is very glad to witness this new achievement by AMC and vows to support the company's development as always.
"I am also pleased to see that, through the concerted efforts from both AMC management and staff, the company had a successful and profitable year in 2012, and has also achieved excellent results in the first half of 2013. Thank you, the excellent management team headed by Mr. Gerry Lopez, and all AMC staff for your hard work," said Wang Jianlin in the letter.
Gerry Lopez thanked Zhang Lin for his attendance and expressed gratitude to Governor Brownback, Mayor Dunn and the state of Kansas for working with them to complete this project.
"It is wonderful to see this new state-of-the-art facility right here in Kansas," said Governor Brownback. "The new headquarters will continue making the Kansas economy strong and vibrant."
He also thanked Wanda Group for investing in Kansas and the kindly hospitality shown by Wang Jianlin during his recent visit to China in July.
"The City of Leawood is extremely proud to be the new home of the global AMC Theatre Support Center," said Mayor Dunn. "We are also thrilled about the energetic synergy that AMC will bring to our community under the dynamic leadership of Gerry Lopez and his outstanding management team."
Dunn thanked Wanda Group for donating to the local communities with AMC during Wang Jianlin's visit to the US.
Based in Kansas, AMC operates 25 of the 50 highest grossing theatres in the United States, including four of the top five. Last May, Wanda purchased AMC's entire stake and inherited its debt with $2.6 billion under an agreement.