World-renowned theme park design firms meet with Wanda
Jul 19,2013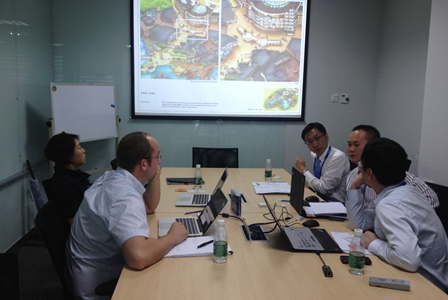 Representatives from internationally renowned theme park design companies Jora Vision and Forrec recently met with the Wanda Cultural Tourism Design Institute in Beijing.
Two sides engaged in discussions related to the Wanda Cultural Tourism Institutes' latest planned theme park project.
Jora Vision specializes in conceptualizing, planning and designing theme parks and other recreational environments. The company's past designs include the famous Adventure World Warsaw, LOL Atol in the Netherlands and many others. Forrec will be acting as consultant for Wanda Cultural Tourism Institute on the Wuhan Film Theme Park project, reporting progress and results related to film production.
These discussions will mostly go into detail on aspects tied to role positioning, set design, storyboarding and script writing for films in the Wuhan Film Theme Park. Both sides worked on reaching equilibrium between Eastern and Western cultural elements, emphasizing the integration of eastern elements into the film creation process.
Bringing in world renowned design firms is instrumental in ensuring design for Wanda's theme park projects proceed smoothly ahead. Through a strong innovative spirit, Wanda hopes its Theme Parks can reach an international level.