Wanda vows to enhance work safety in the 2nd half of the year
Jul 10,2013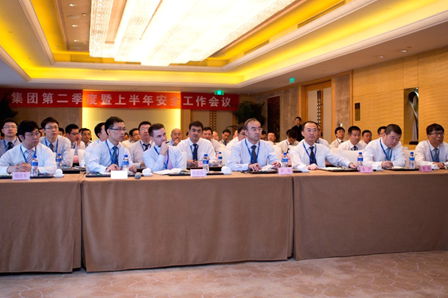 Wanda Group held a meeting on July 8 to review the work safety situation in the second quarter and first half of the year in Beijing.
Representatives from various group departments, such as the Safety Supervision Department, Business Planning & Research Institute, Cultural Tourism Institute, Hotel Design Institute and the Cinema Construction Center, gathered at the group's headquarters to report their current work safety situation.
At the meeting, Wanda Vice President Yin Hai announced higher work safety requirements for the second half of the year.
He asked all work safety related staff to carefully and professionally inspect hidden dangers and strictly adhere to national and company standards.
Referring to some faults exposed recently during the acceptance check, Yin ordered higher-ranking officials to manage safety by themselves, and design and quality supervision departments will be responsible for ensuring quality control during the construction process.
The group's branches should cooperate with local fire brigades to hold drills, said Yin.
Those who fail to take their jobs seriously will be dealt with accordingly, he noted.
The Safety Supervision Department, which is in charge of the group's work safety, vowed to remove all hidden dangers, promote increased education regarding existing and newly introduced regulations, make full use of the information system, find systematic problems and strengthen the ability to prevent problems in the following six months.
As the tenth quarterly work safety meeting of the group, the meeting has been functioning as a platform to eliminate dangers, solve safety problems, announce accidents, share experience and carry out training.