Wanda opens plaza in Chongqing Wanzhou
Jul 05,2013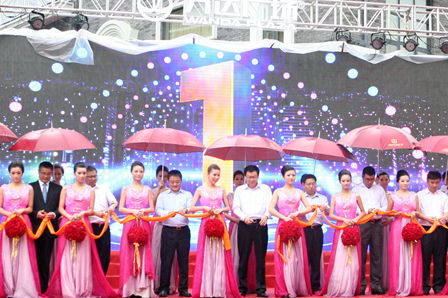 Officials cut the ribbon at the opening ceremony of Wanzhou Wanda Plaza.
The panorama of the Wanzhou Wanda Plaza.
Wanda Group held a grand ceremony on June 5 to celebrate the opening of its new plaza in Wanzhou District, Chongqing Municipality, which is located on the upper reaches of the Three Gorges.
The Wanzhou Wanda Plaza is the second Wanda plaza in the city and is Wanzhou's first high-end commercial complex, which boasts the biggest investment and largest scale. It is located near the Beibin Road in the Gaosuntang business district.
It is the fifth plaza opened to business this year by Wanda Group, which plans 19 new plazas in 2013. The plaza will set the standard for shopping centers in northeast Chongqing in terms of planning, design, quality, brand level and shopping environment.
The plaza will provide nearly 10,000 job opportunities and hand in around 100 million yuan of taxes to the local government every year.
The five-star DoubleTree by Hilton Chongqing-Wanzhou in the plaza will also open soon.
Developed by Wanda Group, it is a new 22-storey hotel and the first international full-service hotel in Wanzhou.
Located close to the Yangtze River, the new hotel features 253 rooms with floor-to-ceiling windows overlooking the river and mountains.
The hotel will feature more than 1,700 sq.m of conference and banqueting space – the largest in Wanzhou – including a 1,100sq ballroom and five meeting rooms.
There are also three restaurants, including a Chinese outlet with seven private dining rooms overlooking the river. Other facilities include an indoor swimming pool, sauna, steam rooms, jacuzzi, 24-hour fitness centre and a beauty salon.