Wang Jianlin: London project is a good bargain
Jun 28,2013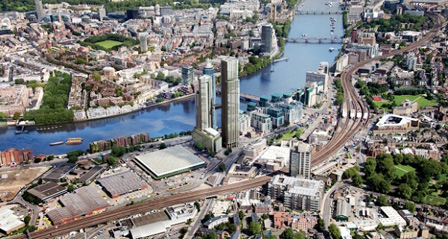 \
One Nine Elms is a proposed mixed-used development comprising 1.13 million sq ft of prime residential, commercial and retail space in central London.
Wanda has made a good bargain in investing a real estate project in Central London, which will include the company's five-star luxury Wanda hotel and premium apartments, Wanda Group Chairman Wang Jianlin told The Beijing News in an exclusive interview recently.
The project, announced on June 19, will have a construction size of 105,000 square meters, approximately 20,000 of which will be used for the hotel, which will have 160 rooms. The project also includes 63,000 square meters of premium apartments. The total investment value will be approximately GBP 700 million.
"It's much cheaper than developing a project in big Chinese cities like Beijing and Shanghai," said Wang, explaining: "The average price of apartments nearby is about 14,000-15,000 GBP/sq, which is 14-15 times of the floor price. That is to say, Wanda will gain a revenue of 900 million to 1 billion GBP and a net profit of 200 to 300 million GBP from the project. That is unimaginable in China."
He also revealed that the floor price Wanda has got compares favorably with quotations one can get in the London property market.
"Wanda has set up offices in London and New York and employed resourceful local staff. A foreign employee in Wanda's Investment Management Center, who used to work for Allied Irish Banks, was informed that the bank had handed over a portfolio of assets including a development to an auction company. If we could snatch up the development before it entered the auction process, we would get a floor price lower than the market price. So the next day we sent someone to London for negotiation," said Wang.
When talking about future overseas plans, Wang told the newspaper that he aims to build Wanda hotels in eight to 10 major cities outside China over the next decade by means of development and investment rather than acquisition