Wang Jianlin: Camacho was not appointed by Wanda
Jun 27,2013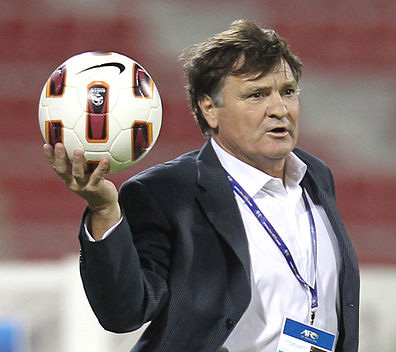 Jose Antonio Camacho
Wanda Group Chairman Wang Jianlin said that Wanda did not choose Jose Antonio Camacho to be the coach of the China PR national football team in an exclusive interview with Beijing News, a Beijing-based newspaper.
"It's nonsense," said Wang, refuting rumors.
Wanda signed a comprehensive agreement with the Chinese Football Association in 2011 to provide financial support to Chinese football. According to the contract, Wanda injected 500 million yuan over three years to improve Chinese football. The investments would cover the development of the youth, the modernization of the domestic league, the training of officials and inviting world-class foreign coach to train men's and women's national teams.
In August 2011, Camacho took over the reins of the Chinese national team, signing a three-year deal.
However, the CFA announced on Monday it had reached an agreement with Camacho to terminate his contract as coach, citing China's poor performance on the international level as the main reason for the Camacho's ouster.
"According to the contract we reached with the CFA, no matter who will be the coach of the national team, Wanda will pay his salary," said Wang, adding: "We provided a list of five candidates, namely Thomas Muller, Frank Rijkaard, Jürgen Klinsmann, Luiz Felipe Scolari and Jose Antonio Camacho. And I personally prefer Rijkaard for his outstanding playing and coaching experience."
But Rijkaard, although showed interest in the job, did not take the post because of the red tape and bad weather, said Wang.
After series of negotiations and assessments, the CFA decided to invite Camacho to fill the job.
Wang noted that he was not informed about any detail of the negotiation and showed discontent to those who blame Wanda for the poor performance of the national team.
However, Wang expressed his willingness to cooperate with the CFA and continue financing Chinese football.