Volunteers hand out reusable bags to combat 'white pollution'
Jun 25,2013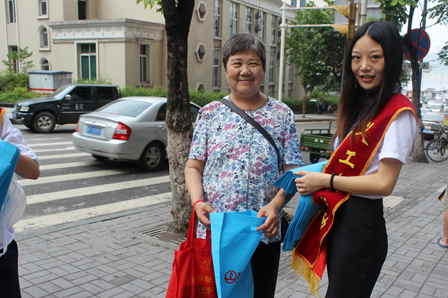 Wanda Department Store in Wanzhou District of Chongqing Municipality organized a volunteer activity to protect environment from plastic pollution, known as the "white pollution".
Three teams of volunteers, all are Wanda employees, handed out 3,000 reusable bags near the Walmart Supermarket, New World Department Store and CBEST Department Store. They encouraged the public to use the reusable bags instead of plastic bags and publicized environment protection knowledge like refuse classification and waste reclamation.
Supermarkets give out 1 billion plastic bags every day, while shops and restaurants use double that amount. Plastic packaging accounts for an estimated 5m tonnes of crude oil each year, according to statistics.
The group seeks to be a socially-responsible business, proactively assuming social responsibility. In the past 25 years, it has set a role model and a development trend for China's private enterprises. Each Wanda employee is required to do at least one volunteer job each year. To date there are more than 500 Wanda volunteer stations with 50,000 members across China.