Backstreet Boys write thank-you letter to Wanda Vista Hotel
Jun 20,2013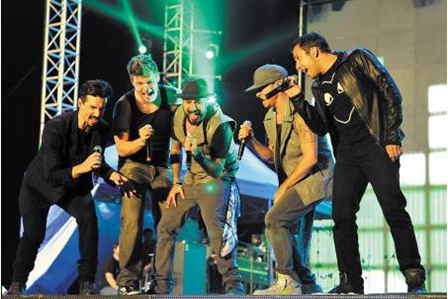 Jason Zito, manager of the Backstreet Boys, a popular American pop band, wrote a letter to Changsha Wanda Vista Hotel to thank the hotel staff for their hospitable and considerate services during the band's stay from June 9 to 12.
The Backstreet Boys was in Changsha, capital of Hunan Province, for their "In A World Like This" World Tour. The hotel's general manger Boris Blobel attached much attention to their visit and looked into every detail of their agenda in the hotel.
Zito said in the letter that Changsha Wanda Vista Hotel would definitely become the first choice of the band if they would have a chance to visit Changsha again.
Following is the full text of the letter:
On behalf of myself, and the Backstreet Boys, we'd like to thank the wonderful staff at the Wanda Vista hotel for their professionalism, support and amazing service. You have a beautiful hotel, and one that you should show great pride in. If our journeys ever find us again in Changsha, we know there is only one hotel choice, the Wanda Vista. Although, we must be careful… your amazing buffet will have us leaving many kilos heavier with each stay!