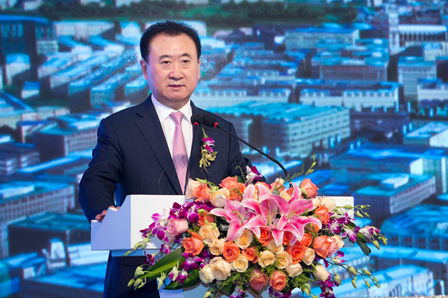 Wanda Chairman Wang Jianlin addresses the ceremony.
Stewart McIntyre, Managing Director of Sunseeker International Ltd, addresses the ceremony.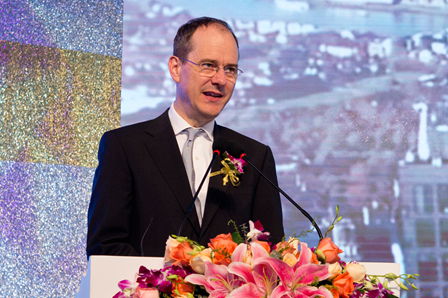 Sebastian Wood, British Ambassador to China, addresses the ceremony.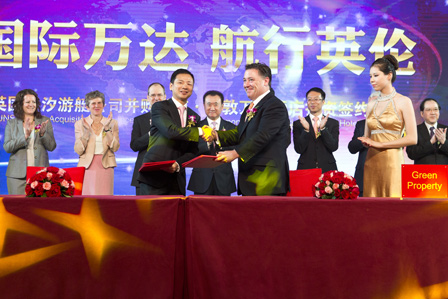 Liu Chaohui, General Manager of Investment Management Center, and Managing Director of Green Property, shake hands after signing the agreement.
China's largest premier commercial property and entertainment conglomerate, Dalian Wanda Group, today announced a significant UK investment program.
As part of this program, Wanda and leading British yacht company, Sunseeker International Ltd, today announced that they have entered a definitive agreement under which Wanda will acquire a majority shareholding of 91.81% in pre-eminent luxury motor yacht manufacturer Sunseeker, with the remaining 8.19% to be acquired by Sunseeker management. The two stakes were priced consistently. The deal has a total investment value of GBP320 million and is expected to close by mid-August. Wanda also announced today that the company has reached an agreement with Green Property to develop a real estate project in Central London, which will include the company's five-star luxury Wanda hotel. It will be the first luxury hotel opened by a Chinese firm overseas.
These two investments in the UK follow Wanda's $2.6 billion acquisition of AMC Entertainment Holdings, Inc. in 2012 and mark significant progress in the company's international development.
Wanda committed to upholding the values and heritage of the Sunseeker brand
Commenting on the Sunseeker acquisition, Wanda Chairman Wang Jianlin said, "Acquiring Sunseeker deepens Wanda's international influence, further enhances our position in the global luxury, entertainment and tourism markets, and represents an important step forward for the overall development of our business. With the committed support of Wanda, Sunseeker is well-placed to take full advantage of opportunities in China, one of the world's fastest growing luxury yacht markets. We are confident that this will bring Sunseeker's business to the next level."
Chairman Wang continued, "As a global brand in the luxury motor yacht sector with a rich history, Sunseeker is synonymous with quality and design leadership, and dedication to brand excellence. Wanda recognises the importance of Sunseeker's investment in innovation, the quality craftsmanship produced by its skilled workforce and its commitment to using the world's best components. We are committed to long-term investment in the Sunseeker business, its people and its iconic brand."
Headquartered in the UK, Sunseeker is one of the world's pre-eminent luxury motor yacht manufacturers and one of the few to have maintained consistent sales revenues in recent years. This reflects the strength and global standing of its products and brand.
Under Wanda ownership, Sunseeker will remain a British company, headquartered in Poole, Dorset, and will maintain its existing production bases in the UK along with its current workforce. The existing management will remain on the Sunseeker Boards and Mr. Robert Braithwaite, the founder of the company, will continue to be involved in the management of the business, providing continuity and a strong platform for the new model programme currently being developed in Poole. Wanda is fully committed to supporting Sunseeker's superior products, its rich heritage and its premium brand, which will be further enhanced by Wanda's continued investment.
Stewart McIntyre, Managing Director of Sunseeker International Ltd, commented, "We are thrilled to be joining the Wanda family. Support from Wanda will be instrumental in enabling Sunseeker to unlock the enormous potential of China's rapidly expanding luxury yacht market. Combined with Wanda's outstanding track record of entrepreneurship and history of commitment to supporting leading global brands, this investment will provide an excellent foundation for Sunseeker's next phase of growth. Wanda's history of managing global brands after acquisition makes clear that it will continue to invest in Sunseeker and support our management team as we take the company to the next stage of development."
Over the next few years, China and other growth markets are expected to contribute significantly to global growth in the luxury yacht sector.
The transaction has already received regulatory approval from China's National Development and Reform Commission.
In connection with this transaction, Ernst & Young LLP has served as advisor and Freshfields Bruckhaus Deringer LLP has served as legal counsel to Wanda; Puji Capital Limited has served as financial advisor.
Wanda Hotel development to be the first Chinese luxury hotel overseas
Wanda also announced today the company will build a five-star Wanda hotel in London, which will be the first luxury hotel opened by a Chinese firm overseas and mark the first move overseas by Wanda's luxury hotel brand.
The new Wanda hotel will be located at a prime location on the South Bank, with stunning views overlooking the River Thames and iconic local landmarks The Palace of Westminster and Battersea Power Station. The project will have a construction size of 105,000 square meters, approximately 20,000 of which will be used for the Wanda hotel, which will have 160 rooms. The project plans include 63,000 square meters of premium apartments. The Wanda development project will become a new London landmark upon construction completion. The total investment value of the project will be approximately GBP 700 million.
Chairman Wang remarked, "Through the international development of Wanda hotels, we are confident that we will be the leader in bringing branded Chinese luxury hotels to the global market, where they have long been absent. The London property market has excellent investment opportunities and we have confidence that Wanda's strength and expertise will make the Wanda London's premier hotel, further promoting development in the area."
The Mayor of London, Boris Johnson, said, "I warmly welcome Dalian Wanda's investment into London as part of our plans to dramatically transform Nine Elms into a stunning quarter of the capital, providing thousands of new jobs and homes. City Hall and my promotional agency, London & Partners, have worked tirelessly with Dalian Wanda Group to secure this cracking deal, which is yet another sign of the soaring global confidence in London as world-beating place to live, work and do business."
Sebastian Wood, British Ambassador to China, remarked, "These investments will further strengthen the bilateral relationship between Britain and China, and signal even closer ties between our two countries. We hope to work closely with our Chinese counterparts to further support initiatives that promote opportunities for commercial, trade and development coll