Movie park allowed to use hero astronauts' portraits
Jun 18,2013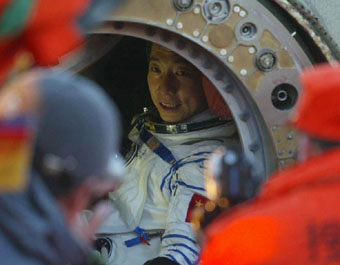 China's first astronaut Yang Liwei looks out of the Shenzhou V spaceship after his capsule landed on a grassland of northern China's Inner Mongolia, Oct.16, 2003. [Photo from China Daily]
Wanda Group's Wuhan Movie Entertainment Park in Wuhan Central Cultural District has gotten the permission from authorities to use the portraits of five prominent Chinese astronauts.
With the permission of China Manned Space Program Office and the PLA General Armament Department, who own the portrait rights of astronauts, the Wuhan Movie Entertainment Park will be able to use the portraits of Yang Liwei, Fei Junlong, Zhai Zhigan, Liu Yang and Jing Haipeng.
The five astronauts all took part in China's manned space missions and Yang is China's first space traveler.
The park will introduce their stories, China's manned space history and development to the public in the Space Theater's Hall of Heroes.
The Space Theater is the first and only aerospace education base in Central China. With vivid sound and light effects, spacecraft models, educational movies and simulated space travel, the theater will present to the public, especially teenagers, a unique space experience and knowledge.
Wuhan Central Cultural District is situated in downtown Wuhan, between the East Lake and the Shahu Lake in Wuchang District. The project has a land area of 1.8 square kilometers and a gross floor area of 3.4 million square meters. Wanda Group invested 50 billion yuan in the cultural district which opened to the public in 2011. The cultural district is a multifunctional world-class cultural tourism project that offers business and office services, high-class residences and commercial space while serving as a center for tourism, culture and the arts.