Heilongjiang Party Secretary visits Wanda Plaza construction site 10.
Jun 13,2013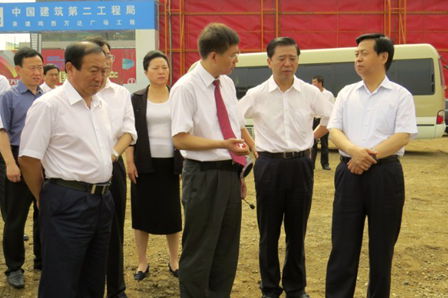 Heilongjiang Party Secretary Wang Xiankui, accompanied by Jixi Party Secretary Xu Zhaojun and Mayor Kang Zhiwen, visited the construction site of Jixi Wanda Plaza in Jixi City, Heilongjiang Province on June 10.
Wang, on behalf of the Provincial Party Committee and the Provincial Government, extended warm congratulations on the launch of the project and expressed satisfaction at the project process and construction management.
Wang pointed out that the new plaza will promote business and real estate development in Jixi and provide first-class shopping, business, residence and recreation facilities.
He also gave his greetings to the staff and workers stuck to their forefront positions during the holiday. The traditional Dragon Boat Festival fell on June 12 this year and the public would enjoy a three-day holiday from June 10-12.
Other government officials also expressed their concern and support to the plaza construction.
General Manager of Jixi Wanda Plaza Zhang Lidong promised state-of-the-art quality and vowed to make the plaza a project that can last for generations.
The Jixi Wanda Plaza broke ground on May 17. Consisting of a plaza and a hotel, it is located on the west side of the Central Street of Jiguan District with the Riverside Park nearby. With an investment of 6 billion yuan, the plaza covers 56,300sq and has a construction area of 418,000sq. The plaza is the city's largest urban complex project in terms of the investment and scale so far.